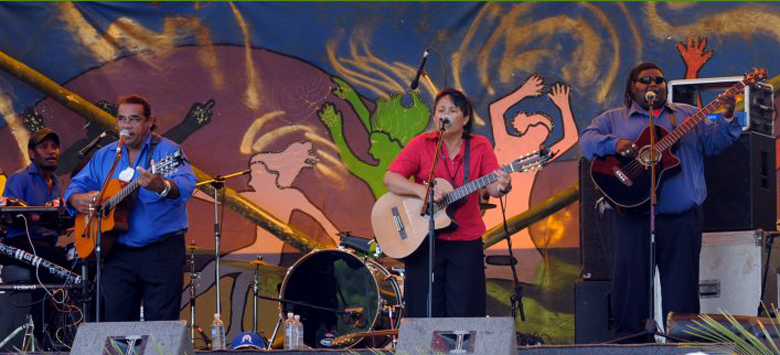 Torres Strait's first all original band Northern Xposure are gearing up for the release of their new album Message on the Wind.
The four piece band aims to showcase the sounds and style of the Torres Strait in their music. "From our up-bringing, looking at people like Uncle Seaman Dan, we grew up listening to their type of music. We decided that if we didn't want to come under the same umbrella, we would come up with our own style of music, and it just didn't happen overnight," says Northern Xposure's Brian Williams. "We were just playing and playing and then we tried to be like someone else. We eventually decided that we should just do original numbers and do our own songs. We took it from there."
The band is hoping to tour for their new album but are finding it difficult as they still have to hold down day jobs. "We are yet to get out and promote this latest album. It's been getting a lot of air play, but yes, we need to get off the rock and get onto the mainland," says band member Tamily Ann Shibasaki. . "Isolation plays a very big part in being up here – you eat, travel, and get accommodation living elsewhere. It's very hard but we are trying to get something organised where we can get away and promote the latest album with the songs that we have."
Northern Xposure is proud to showcase the sounds of the Torres Strait. They think the fact that Torres Strait Islanders are receiving recognition through many mediums, is a great achievement. "The fact is Torres Strait is a very small community when you compare it to the mainland Australia and for anyone to achieve anything here does us all proud," says Tamily. Message in the Wind also touches on issues surrounding environmental change. "On the other islands at the moment the sea levels are posing a great threat to the housing. It's very much on our minds and something that we're aware of every year, especially when we get monsoons," says Tamily.