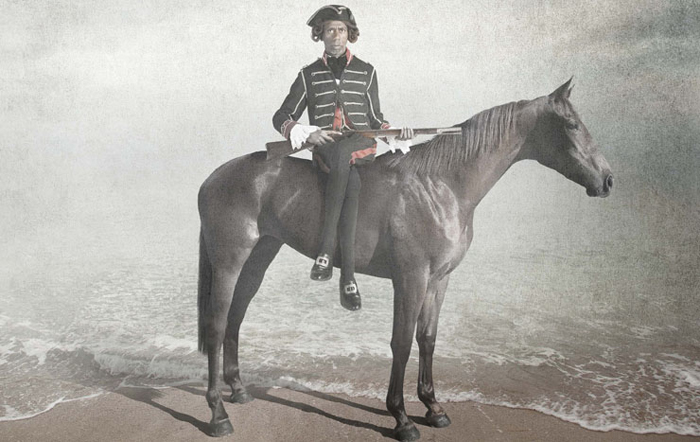 Australia's largest exhibition of contemporary art by Aboriginal and Torres Strait Islanders to date will be held at Queensland's Gallery of Modern Art beginning this weekend. My Country, I Still Call Australia Home will host the works of Australia's best Indigenous artists and open with performances from iconic singer/songwriter Archie Roach, The Medics and Coloured Stone frontman, Bunna Lawrie.
"The exhibition is being held to celebrate the collection of art we have here in the gallery. It's a really important collection that we've amassed over the recent years that holds a lot of important Aboriginal stories. At this point in time, we can really bring a lot of those works out, put them together, and have these really strong dialogues," Curator of Indigenous Australian Art, Bruce McLean says.
Aboriginal artwork has always had profound meaning and connection to spirituality and the land. The pieces exhibited will explore these connections as well as three central themes – Indigenous views of history (My History), response to contemporary politics and experiences (My Life), and illustrating connections to place (My Country). "The overarching theme is My Country, I still call Australia Home, which looks at the way Aboriginal and Torres Strait Islanders portray their own version of history that might differ from or add to the National founding stories and myths," Bruce says. "The importance of their works is contributing stories but also about contemporary experiences and life for Aboriginal people and also the way in which they relate to their country spiritually and physically."
These themes will be presented in the form of paintings, sculptures, installation and video art. "Art has emerged as one of the platforms that has given Aboriginals a strong voice. It's really important that these artists are telling their stories both to Aboriginal people and the audience that come in, who are predominantly non-Indigenous," he says. "It's a really diverse range of media that Aboriginal and Torres Strait Islanders arts are using now. This exhibition reflects that." The exhibition will be opened Saturday 1 June with performances by Archie, The Medics and Bunna Lawrie in an event titled My Country, Up Late.
The event is free to the public. "As part of many of our exhibitions we stage an 'up late' event which is a concert. For this exhibition Archie Roach and The Medics in particular, are quite important because they share a really strong link to the stories that they tell in their music with some of the works in the exhibition," Bruce says. "The musical element adds another layer to the visual cues that people are getting from the exhibition."
The My Country, I Still Call Australia Home exhibit will feature over 300 works from Indigenous artists and draw in massive crowds. "This is the largest show that we've ever done. There's over 300 works in the exhibition and they are by artists from every state and territory. Importantly for us, there are many Queensland artists leading a lot of these dialogues. There is a really strong presence from them," Bruce says. "We are expecting well over 100 thousand people to visit the Queensland Gallery of Modern Art for this exhibition that runs from June 1 – October 7."
If you want more information on the exhibition, head to https://www.qagoma.qld.gov.au/exhibitions/coming_soon/my_country .