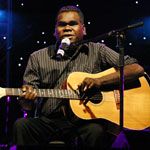 It's the kind of voice that stops people in their tracks. From the moment you hear the haunting, lilting tones of Geoffrey Gurrumul Yunupingu in Wiarthul, the first track off his debut album Gurrumul, you know that you are listening to something truly special.
The reaction to this intensely shy but incredibly gifted young musician from Arnhem Land has been nothing less than explosive, and it's not just the fans – both Indigenous and non-Indigenous – who have been raving. Music critics have been falling over themselves to praise Gurrumul, with adjectives such as "astounding", "beautiful" and "angelic" appearing in magazine and newspaper articles across the country. Bruce Elder from the Sydney Morning Herald calls Gurrumul's singing voice "the greatest voice this continent has ever recorded".
So what does he think of so much adulation?
"Manymak," he says, laughing quietly. "Good."*
Gurrumul was born blind, and grew up on Elcho Island surrounded by a supportive family and a community who encouraged, rather than sheltered, this obviously talented young man.
"My mum bought me a small toy keyboard," Gurrumul says. "I liked it and taught myself straight away.
"All instruments – whether it is piano, guitar, bass, yidaki, drums – all of them I like playing. I just love music."
It is the music of his island home that remains a strong influence on Gurrumul today.
"The old people who have sung songs for me and at ceremony and in Elcho and Ski Beach and Gove all my life," he says. "They were my first musical influence.
"Next is the church music from Elcho when I was a little boy. Then I always listened to the radio, especially The Eagles, Elvis, people like that."
Gurrumul is related to Mandawuy and Galarrwuy Yunupingu, and played with Mandawuy in the internationally successful Yothu Yindi before forming Saltwater Band, who he is also releasing an album with this year.
Unlike so many of today's musicians and pop stars, Gurrumul has no interest in fame, and would like to make money from music only to help his family.
"I just want to keep playing and singing," he says. "I hope I can make some money for me and for my family. This would make my family even more proud of me.
"I am still learning about what it is to make it into the charts. I feel it makes me a little bit famous but I am not sure."
Gurrumul is equally uncertain as to why he has made such an impact on a mainstream audience.
"Dunga ngarra (I don't know)," he says. "Maybe because I am just singing with my voice? I don't know what I think.
"I just want them (the listeners) to be happy, to listen to Yolngu music and enjoy it and like it. But I also want them to learn about Yolngu and how we have a lot of good stories."
It has taken Gurrumul more than 10 years to put this album together. He credits friend and producer Michael Hohnen, creative director of Skinny Fish Music who also plays double bass on Gurrumul, as a motivation and inspiration behind the album. But it is also his home and his family who have inspired Gurrumul to create.
"I feel that I have been taught a lot of things from my family, and that they give me the inspiration to write music and songs," he says.
"We have a big library of culture and songs and stories, so I have a lot of stories that can give me inspiration too."
Because he is shy, and more comfortable speaking in Yolngu than in English, Gurrumul has done very few media interviews, preferring to leave the talking to Michael. But when he picks up a guitar (Gurrumul is left-handed, and as all the guitars he had access to when he was a boy were strung right-handed, he plays guitar upside down), it's a different story.
"I am shy," he says. "But when I sing and play guitar I am more comfortable.
"I don't have much to say to people when I talk. That is for other Yolngu. But I can play and sing and tell people things through my songs. We (Yolngu) have like an encyclopaedia of stories ready to tell people, if they want to listen."
People certainly do want to listen, with Gurrumul making it to Number One on the iTunes Australia roots music chart, running strong in the mainstream iTunes music chart, and is currently sitting in the Top 40 in the ARIA mainstream album chart. He has also been invited to perform alongside music royalty – playing support for Sir Elton John at his Darwin concert this month.
But all this hype does not seem to have affected this softly spoken, gentle man, who cares only for the music.
"Music is my life," he says simply.
"These are songs that I sing for all my families, and Yolngu. When I sing it is like I am singing for my fathers and mothers and aunties and my clan. It makes me feel strong and happy, like I am giving people a message and a good feeling."
He is also aware of the importance of sharing his culture, and the role his music can play.
"Some people might learn these stories now," he says. "But some might learn them in the future. Like young kids who grow up and then listen to the songs on the CD in the future. I feel like my voice can help give them the stories."
* Gurrumul's responses have been translated by Michael Hohnen.