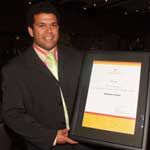 He's only 21 and he's already a CEO. This is one fella who's going places.
He's only 21, but Gladstone's Matthew Cooke is already playing a pivotal role across a range of organisations promoting the health, culture and wellbeing of Aboriginal people.
Matt recently won the Young Leader award in the inaugural 2007 National Excellence Awards in Aboriginal and Torres Strait Islander Health.
The awards, conducted by the Department of Health and Ageing, showcase and celebrate the achievements of the Aboriginal and Torres Strait Islander health sector in bridging the gulf between the health status of Aboriginal and Torres Strait Islanders and other Australians. They are also a timely reminder of the dedication over the past 30 years and more by both Indigenous and non-Indigenous people to bridging that gulf.
Matt is currently the Secretary and Public Officer of the Bailai Aboriginal Corporation for Land and Culture, Secretary for the Gehgre Aboriginal and Torres Strait Islander Corporation and Chief Executive Officer of the Nhulundu Wooribah Indigenous Health Organisation.
He was nominated for the awards by the Queensland Aboriginal and Islander Health Council, who described him as "an exceptional asset in Indigenous health".
While still in high school, Matt was recognised by his family and Elders as a young person with the potential to make a major contribution to his community. They encouraged and mentored him. He was elected to the Board of Directors of the Aboriginal Health Service where he put in many hours voluntarily to help develop a business plan.
Appointed CEO after a successful six-month trial, Matt has overseen the senior business management of the Aboriginal Health Service and Community Aged Care Package Services; been responsible for strategic planning and HR management; and developed and implemented funding proposals, policy and procedures.
Matt has also been instrumental in building partnerships and negotiating funding from government and non-government sources. For example, he was involved in a successful grant from the Rio Tinto Aboriginal Fund, which supports improved health outcomes for Aboriginal and Torres Strait Islander people.
Matt is clearly a guy who is going places. But it's where he's come from that has played such a big part in his career so far.
"There are things you can do for yourself that help shape you," Matt says. "For example, don't be too introverted or too extroverted – get the balance right.
"But the important things I have got have come from my Elders. I've had a lot of mentoring from the Elders in the community. When I was younger and would say 'I can't do that', it would be a bit of a clip behind the ears and the Elders would say 'no, we need you to stand up now'.
"In turn, I've always wanted to encourage other young people. That's my passion – to get to the young ones. They fall into this pattern of saying 'I've got it too hard – I can't do this'. I say 'that's not correct – yes, you have barriers and battles. But you can walk down the bad street or you can keep your head up and choose the right decision and go forward'. That's the big lesson I try to teach the kids here in Gladstone."
Matt said he felt "very privileged" to be nominated for the awards.
"I was very happy to see someone believing I was showing strong enough leadership skills," he says.
So where to from here for Matt Cooke?
"Everyone says you're 21 years old and you are a CEO, where will you be in 10 years?" Matt says.
"I say, who knows? The sky's the limit. But I still have a lot of experience and knowledge to go. I am very respectful of that."