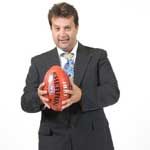 Deadly Vibe Issue 134, April 2008
Who are the players to watch in 2008? Deadly Vibe grills Marngrook Footy Show host Grant Hansen.
Grant Hansen sure knows his footy. For the past 10 years he has hosted the award-winning Marngrook AFL Footy Show radio program, was the first Indigenous AFL caller and is now also co-host of NITV's Marngrook Footy Show – the world's first Indigenous footy show.
The show has already enjoyed one successful season, and this year the program's popularity has soared to new heights.
"Blackfellas all across the country love their footy," Grant says. "But we're building a large non-Indigenous audience as well.
"Shows like ours are raising awareness of the real impact Indigenous players are having on the game (there are 73 Indigenous players in the AFL this season). But also, viewers enjoy our format."
The show now broadcasts on four networks – NITV, Imparja, AUSTAR and Channel 31 – and is NITV's top-rating show.
Each week Grant and his co-host Gilbert McAdam, along with news presenter Leila Gurruwiwi, look at who's in, who's out, who won and who lost. They're also joined by guest stars – regular panel members include Ronny Burns, Derek Kickett and Alan Thorpe – and every week they profile a former player and a new, up-and-coming players. So who does Grant think will emerge as a star this season?
"Josh Hill of the Western Bulldogs has a lot of magic about him," Grant says. "He only played one game last season, but this year he's been one of the team's best players so far."
Josh, who is only 19 years old, won a Rising Star Nomination in Round Two in the Bulldogs clash against the Melbourne Demons. The young pup scored three goals in what was only his third AFL game.
"Cyril Rioli and Cameron Stokes at Hawthorn who are worth watching," Grant continues. "And Austin Wonaeamirri of the Melbourne Demons has a big future ahead of him."
Cyril Rioli has some serious footballing heritage behind him – the 18-year-old is nephew to both Maurice Rioli and Michael Long. Hawthorn Hawks coach Alastair Clarkson is excited about both Cyril and Cameron's progress, dubbing these two exciting young players from the Top End Hawthorn's own Krakouer brothers.
Austin "Aussie" Wonaeamirri is known for his freakish pace, and debuted with the Demons this month.
"Some more established young players who I believe will stand out this year include the Hawks' Lance Franklin and Chance Bateman," Grant says. "I think Hawthorn have the ability to make it to the top four this season, if they buckle down and take it game by game.
"Then there's Geelong's Matthew Stokes and Andrew Lovett from Essendon. I also think Roger Hayden from Fremantle is a bit of an unsung hero."
Grant is looking forward to an exciting year on NITV, with new segments to be introduced, as well as some special event shows including the ANZAC Day Clash, the Indigenous Round Special and a Grand Final special preview.
You can catch the Marngrook Footy Show on Thursdays from 8pm AEST throughout the AFL season.