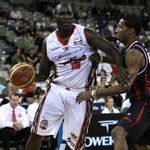 Nathan Jawai has become the first Indigenous Australian to be drafted into the NBA after being selected by the Indiana Pacers in yesterday's draft.
Jawai was selected in the second round with the 41st pick by the Pacers and became only the 10th Australian to be drafted in the NBA.
While there is nothing unusual about NBA teams selecting foreign players, considering Jawai comes from the small community of Bamaga at the tip of Cape York, and only began playing basketball five years ago, his selection was without doubt the most remarkable and unlikely of the this years draft.
Over the past five years, Jawai has spent time at the Australian Institute of Sport, had a brief stint playing college basketball in the US at Midland College during the 2006-07 season and last season played for the Cairns Taipans in the National Basketball League and averaged 17 points and nine rebounds a game. He finished his first year in the NBL being named Rookie of the Year.
Despite being drafted by Indiana, Jawai is expected to be traded to the Toronto Raptors as a part of a deal between the two organisations. NBA rules don't allow such trades until July 9, but it is believed that the 41st pick of the Pacers was at the request of the Raptors.