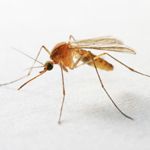 The dengue fever outbreak in Far North Queensland coincides with comment that Indigenous Australians in remote areas will be hardest hit by climate change.
In an editorial in the The Medical Journal of Australia, three authors from different fields have called for recognition of the vulnerability of Indigenous people in some of the hottest parts of central and northern Australia.
The authors say the challenge for Australian doctors will be to look beyond a Western, scientific approach to Indigenous health and acknowledge the influence of ecology and other factors on Indigenous lives.
Heat stress, cardiovascular and respiratory disease for the elderly and bacterial diarrhoea across all age groups were among the conditions predicted to increase as a result of climate change.
"For many Indigenous people, a connection with 'country' – a place of ancestry, identity, language, livelihood and community – is a key determinant of health," the editorial says.
"If the community-owned country becomes 'sick' through environmental degradation, climate impacts, or inability of the traditional owners to fulfil cultural obligations through ongoing management and habitation of their land, the people of that land will feel this 'sickness' themselves."
Increased risk of dengue fever due to climate change has been debated for years but the flooding and tropical heat conditions of Far North Queensland this year are ideal for mosquito breeding, including the specific mosquito type responsible for the spread of the virus.
A study by the CSIRO in 2006 warned a 2-3[o]C degree rise in temperature could extend the dengue risk zone south to Brisbane, while a 2-3[o]C rise could also see it reach Sydney.
While dengue fever has previously been recorded as far south as Gosford, just north of Sydney, dating back to the 1930s, climate change alone is not the only factor impacting on the spread of the disease.
The roll-out of reticulated water supplies, competition from Indigenous mosquitoes, the availability of household insecticides, and improved and targeted public-health initiatives have all helped contain the disease.
More than 600 people across Far North Queensland have so far been infected with Dengue fever this year, with more than 500 of these in Cairns.
Another 70 cases have been reported in Townsville, while infections have also been reported in Port Douglas, Innisfail and the Aboriginal communities of Yarrabah and Injinoo.
There is no vaccine or cure for dengue fever, which is a painful and debilitating disease also known as 'breakbone fever'. It causes symptoms ranging from fatigue, fever, severe headaches, body aches, rashes, nausea and vomiting to a severe condition requiring hospitalisation called dengue haemorrhagic fever or dengue shock syndrome.
Each year, the mosquito-borne virus harms up to 100 million people and kills more than 20,000 worldwide.
The time between the bite of a mosquito carrying dengue virus and the start of symptoms averages four to six days, with a range of three to 14 days. An infected person cannot spread the infection to other persons but can be a source of dengue virus for mosquitoes for about six days.
There is no specific treatment for dengue. Persons with dengue fever should rest and drink plenty of fluids. They should be kept away from mosquitoes for the protection of others. Dengue haemorrhagic fever is treated by replacing lost fluids.
Queensland Health was also working to contain a particular mosquito from Papua New Guinea currently in the outer islands of the Torres Strait. The significance of this mosquito is that it is also capable of transmitting dengue fever, but it can also live quite well in cooler climates.
University of Queensland scientists, as part of a $10 million project funded by the Bill and Melinda Gates Foundation, believe they are close to a possible long-term means to control the spread of dengue fever.
The particular mosquito that spreads dengue fever needs to be 10-15 days old to transmit the virus.
The UQ scientists have experimented with a bacteria that is initially injected into the female mosquitoes and then spread through the mosquito population during breeding.
The bacterium halves the mosquitoes life span, which can be up to 30 days. This potentially can contain the virus because only older mosquitoes can pass it on but they will still be mature enough to breed and pass on the bacterium.
In the meantime, homes should be sprayed with cockroach spray, which was effective in killing the mosquitoes, and people in affected areas should wear protective clothing such as long sleeves if possible and cover themselves with mosquito spray when outdoors.
Containers and household rubbish that can collect rain should be removed from around the home. The increase in non-biodegradable plastic packaging and discarded tires is also creating new breeding sites for mosquitoes.