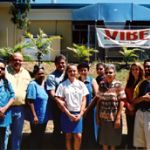 Winner: Cassandra Dorante
School: North Mackay State High School (North Mackay QLD)
North Mackay State High School, Qld – September 17, 2003
Friends and family of student Cassandra Dorante were treated to a fantastic barbecue at North Mackay State High School on September 17, thanks to her winning entry in Deadly Vibe's 'My Story" competition.
Denise Wilson and Claude Williams of Vibe magazine made their way to the Sunshine State to present Cassandra with her award.
Fifteen-year-old Cassandra entered a terrific story about the best day of her life, when she unexpectedly won the Miss NAIDOC award for 2002 in her home town of Mackay.
Black Diamond Claude Williams opened the proceedings with a short speech, followed by a traditional welcome to country by Patricia Corrie.
The 'My Story' barbecue has had some great ambassadors throughout the year, and the Mackay trip was no different with Tiga Bayles, the general manager of Murri radio station 4AAA coming along to congratulate Cassandra on her achievement. Tiga has a long history of involvement in Indigenous broadcasting and media, and presented Cassandra with her award in front of 40 friends and family, and proud principal Linda Boyle.