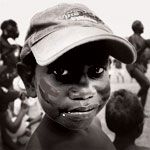 A report on the nation's health delivered yesterday has reveled data suggesting the gap in mortality rates between Indigenous and non-Indigenous Australians is widening.
Delivered at the Australian Institute of Health and Welfare (AIHW) conference in Canberra, the report stated that seventy-one per cent of Indigenous people die before they reach 65, compared with just over one fifth of other Australians,
Life expectancy for Aboriginal people is at least 17 years lower than for non-Indigenous Australians.
They are 12 times more likely than non-Indigenous people to have diabetes, four times more likely to have a respiratory disease and three times more likely to to die from injury.
Indigenous Australians are twice as likely to be obese as their non-Indigenous counterparts, and almost half of Aboriginal people smoke tobacco.
Aboriginal women are four times as likely to fall pregnant during their teenage years, with one in five giving birth before they turn 20.
Rates of sexually transmitted infections (STIs) chlamydia and gonorrhoea have skyrocketed among Indigenous people.
Between 1994-2000, rates of chlamydia for Indigenous people leapt 179 per cent, while the incidence of gonorrhoea jumped by almost two thirds.
But despite the great disparities, the nation spent just 17 cents more per person on Indigenous health than on non-Indigenous Australians.
While the death rate for the Aboriginal population has fallen, that for non-Indigenous people has declined more quickly.
"Although there have been improvements in the mortality rates of Indigenous Australians in recent years, available data suggests that the relative gap in overall mortality rates between Indigenous and non-Indigenous Australians is widening," the AIHW Australia's Health 2008 report said.