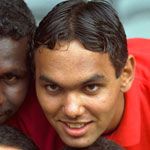 Deadly Vibe Issue 89 July, 2004
Home and away
High-flying Saint Xavier Clarke is not only on the fast track to the top of the AFL but he is also proving himself one of the finest young Indigenous role models in sport.
Since he debuted with St Kilda in 2000, Xavier, who moved to Melbourne from the Northern Territory, has quickly established himself as one of the league's up-and-coming stars. And now that his brother Raphael has joined the club, he has gained some extra motivation as St Kilda continues to improve.
While his efforts on the field have been first-class, Xavier has also proved himself to be a champion off the field. Together with team mate Allan Murray, he is helping to set up a shelter for Indigenous youth based on the successful Lighthouse homes in Victoria.
Xavier and Allan launched the project on the Melbourne Footy Show before embarking on a fund-raising campaign that began at the Saints' very next home game.
The home will help Indigenous young people between the ages of 15 and 22, and staff will provide support and direction.
Named after boxing champ Lionel Rose, who will also maintain a relationship with young people, the home is set to open by Christmas. If all goes well, the pair hopes to help open more homes in the future.
(story 1/7/2004 end)
Deadly Vibe Issue 80, 2003
In 2001, St Kilda acquired the services of one of the most gifted underage midfielders in the country when Xavier Clarke was picked by the Saints as the fifth overall selection in the national draft.
The young Territorian displayed blinding speed and exceptional ball-handling skills in his debut season, playing 16 games for the year. He was also nominated as an AFL Rising Star.
After starring in the ATSIC All-Stars team that defeated Carlton at the beginning of 2003, Xavier went on to be one of the Saints' stand-out players in the preseason competition, placing him in the perfect position to achieve his goal of securing a regular first team spot in 2003.
Excluding the Round 12 game, when was forced off the field with a pre-game hamstring injury, Xavier played in every game this season. He started the season strongly against the Kangaroos in an outstanding game. As halfback, he collected 19 disposals, 16 kicks and three handballs, and continued to repay the confidence of Saints management by putting in some inspiring performances throughout the season. The X-Man's form and potential was recognised and rewarded by retiring St Kilda legend Nathan Buckley, who presented Xavier with the coveted number three jersey following his Round 19 retirement.
Along with several other talented young players in his team, Xavier claimed another Rising Star nomination this year, paving the way for what should be a very bright future at St Kilda.
DEADLY VIBE: ISSUE 62, APRIL 2002
This left-footer from the Territory is on the good foot with the Saints down south.
To relocate from Australia's Top End to the very bottom for the love of your sport is quite some move. But that's exactly what young Aussie rules player Xavier Clarke has done.
A natural on the field, Xavier rose to prominence with Darwin's St Mary's football club and went on to represent the Territory at last year's U/18 national championships. Then he got a call from St Kilda inviting him to join their confraternity down south. A case of dreams come true? You bet.
"I grew up around footy," says Xavier, 18. "In fact I've been playing it since I was three. I love the game so much and I've always wanted to play at the highest level."
Now he is. And thanks to a host family, not to mention his trusty manager Todd Viney, Xavier's move to Melbourne has been smooth sailing.
"My host family have helped me out heaps, and so has Todd. Ever since I came down from Darwin, the club and my team-mates have been really supportive. They've invited me round for dinner to meet their families, which has been really good."
Despite his newcomer status, Xavier has been welcomed to the team with open arms (it might have something to do with his effervescent, personable nature). For a start, they've already coined two nicknames for him – 'X', for obvious reasons; and 'Flash', referring to his fast pace, which Xavier sees as one of his greatest strengths.
"Xavier has settled in really well," confirms Todd. "He's very popular with his team-mates and I reckon he'll turn out to be a bit of a cult figure."
Born and bred in Darwin, Xavier only completed Year 12 last year. "And then I got drafted, so I didn't have time to do anything else but play football full time. But it's something I always wanted to do and I'm absolutely loving it!"
Which is to be expected. After all, Aussie rules is the best game in Australia as far as this swift midfielder is concerned. "A lot of people follow it and to play at that high level and to be recognised as an Australian footballer is a dream come true."
His advice for anyone wanting to get to the top is simple. "Work hard at what you're best at and you'll get the rewards for it in the end. Never give up on what you want to achieve in life."
It certainly worked for him. "Xavier's an excitement machine who is very natural and has that Indigenous flair," says Todd. "He has a great spirit and is a talented all-rounder. I reckon there's a great future ahead of him."