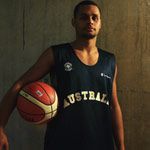 Considering he's only the second Indigenous player to be drafted into the NBA, it's quite prophetic really that Patrick Mills should be selected by a team called "The Trailblazers".
Since emerging from the AIS as a precious teenage talent, 20 year-old Patrick has indeed been burning trails right through Australian, US and International basketball arena's.
Patrick's remarkable rise reached a huge milestone yesterday when he was selected by the Portland Trailblazers with the 55th pick of the NBA draft in Madison Square Garden, New York.
Not only has Patrick joined the history books, along with Nathan Jawai, who last year became the first ever Indigenous Australian to play in the NBA , many are tipping him to become a star of one of the world's most glamorous and wealthiest sporting leagues.
At the 2008 Olympics, Patrick proved he has the ability to match it with the world's best when he ran rings around the US Dream Team.
Patrick was expected to be an early first round selection before a broken hand interrupted his last season with St Marys College and affected his game- time and stats.
Being selected in the second round means Patrick does not earn an automatic contract as first round draftees do and Portland will now make a decision on Patrick's future in the NBA after watching him play in the next month's summer league.
Roster spots are then decided at veteran and rookie pre-season camps.
The Trailblazers were surprised to see Patrick slip so far down the draft order and are confident the point-guard has a bright future in the NBA.
"We didn't think Mills would be there at 55," Portland general manager Kevin Pritchard said.
"It got to be in the late 30s and 40s and he was pretty high on our board. We were really hoping he would get there because as we go through our process, he was the highest watermark for us.
"We feel pretty lucky to get him. I don't want to get too excited about the 55th pick in the draft, but it's really not where you get picked, it's how you feel about a kid.
"This kid is going to come in and compete. We know that. He's competed at an international level, he had success at the Olympics."
If Patrick does not make the Portland roster, options available would be to play in the NBA's Development League or in Europe.
"He's got a chance," Pritchard said. "He's played against the best, he's a tough kid, he's really quick north and south and he can shoot it, so he's got a chance for the 55th pick. He's got a chance in our league."