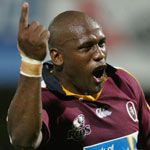 Deadly Vibe Issue 91 September 2004
A wing and a prayer
The sight of Wendell Sailor stampeding full-speed towards you is something that would have most of us diving for cover.
Standing 191 centimetres tall and weighing in at 106 kilos, it would be a brave man who dared to take him on.
This 30-year-old rugby champion is famous for his try-line charges that leave the scattered bodies of the opposing team's backline in his wake.
Wendell began his reign as one of Australia's best wingers back in 1993, playing for the Brisbane Broncos in the NRL. He played for eight seasons, scoring a remarkable 110 tries over 189 games. He also represented Australia in 21 international games, and was named best player during the 2000 rugby league world cup.
Making the swap to union in late 2001 was a difficult move, and a choice that Wendell did not make lightly. Apart from the new set of challenges that changing codes presented, it also put him under the scrutiny of the nation's media, who wondered if this human steamroller could maintain such levels of success in a new code.
At first it seemed that he might not. His first six games with Queensland's Reds in the Super 12s competition were try-less. However, a seventh match saw him break the drought, scoring twice and only closely missing a third.
The difficulties that Wendell faced – and overcame – during the period of transition became the subject of his book, Crossing Over.
Wendell is now completing his third season of rugby union, both with the Reds and the Wallabies. Described by Wallabies coach Eddie Jones as "a big, devastating runner", he was the Reds' leading try-scorer in 2003 and gained a run-on spot for the Wallabies during last year's Rugby World Cup, also scoring the opening try of the tournament against Argentina.
This year Wendell has helped the Wallabies gain victory over Scotland in the Bundaberg Rum Rugby Series, scoring in both matches and ensuring the Hopetoun Cup was retained by Australia.
But there have been several disappointments this season as well, with a severe hamstring strain ruling him out of the Bundaberg Rum test matches against England and the Pacific Islands. He also faced the All-Blacks in the Wallabies' depressing Bledisloe Cup loss.
Apart from this, the Wallabies have enjoyed an exciting Tri Nations series, with the team yet to face South Africa in the final round at the time of writing.
Wendell is also one of a large pool of talented Super 12 players coming off contract at the end of next year's season, opening up the possibility that he may be targeted for a proposed fourth Australian Super 12 team. With such a choice group to pick from, any new team could create interesting competition. Wendell has already expressed interest in the potential new side, and with an ARU decision set to made by the end of the year, this space is definitely worth watching.
(Story 1/9/2004 end)
In a rugby league career spanning eight seasons with Brisbane Broncos, Wendell Sailor scored a phenomenal 110 tries in 189 club games, represented Queensland in 17 State of Origin matches and Australia in 21 internationals. He spent the 1998/99 off-season with English club Leeds Tykes, where he had his first taste of the 15-a-side game.
Wendell's switch to rugby union last October attracted a blaze of publicity befitting his stature as one of league's greatest-ever wingers. He started the year representing the successful Australian team at the Brisbane IRB World Rugby Sevens tournament at Ballymore.
Wendell made his full debut when he wore the No. 11 jersey for the Wallabies against France at Colonial Stadium in Melbourne earlier this year. Wendell started the Vodafone Super 12 season on the wing for the Queensland Reds and hasn't looked back, playing all 11 matches and scoring two tries against the Bulls at Ballymore.