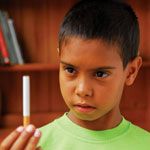 Tobacco may be part of our past, but a new program aims to ensure the negative health and cultural (and financial) impacts don't carry on into the future.
"One study found that the average extended family in these remote communities spends the equivalent of one 4-wheel drive a year on cigarettes or $50,000" – Tom Calma
Tom Calma used to smoke, but not anymore. Now he's leading the Tackling Indigenous Smoking campaign, a nationwide program to reduce the number of Aboriginal and Torres Strait Islander smokers across Australia.
"If you want to live longer then quit smoking," says Tom.
Tom says he was very concerned about the health effects of smoking in his role as the former Aboriginal and Torres Strait Islander Social Justice Commissioner. That's when he started the Close the Gap initiative to improve the life expectancy of Indigenous people.
While there have been [several] past government campaigns that have addressed smoking in the Australian population, Tom says they were not reaching Indigenous people. In the mid 1940s, 75 per cent of the entire Australian population smoked but that figure is now 20 per cent. Today, 50 percent of Indigenous people are smokers.
Tom recognises that smoking is part of a socialisation process for Indigenous people, which often involves having a yarn and a smoke, and that up until the 1960s many Indigenous people were paid in rations, which included tobacco. He says we need to approach smoking in Indigenous communities in a more appropriate manner.
"We have developed a culture of smoking and an addiction that was perpetrated by the policies of the day. That's why it's hard [to give up]. To break these habits we need to understand these past relationships with smoking and not just ban smoking or say it's bad for you," he says.
Despite the terrible statistics, the government health drives and the graphic warnings on cigarette packets, Tom says that market research shows that most Indigenous people don't think about the health effects of smoking and don't relate it to poor health. He says the further you get into remote areas, the less people think about these effects and it just becomes a way of life.
In some remote communities, Tom says smokers make up to 70 or even 80 per cent of the population.
"One study found that the average extended family in these remote communities spends the equivalent of one 4-wheel drive a year on cigarettes or $50,000," said Tom.
So how can you get help to quit? Since the end of 2008, any Aboriginal or Torres Strait person can access nicotine-replacement therapies (patches) at Aboriginal Medical Services, although many don't know this. Health workers, doctors, nurses and administrative staff in our medical services already provide support to individuals who want to give up smoking, but this effort is about to be ramped up.
Tom will play a pivotal role in the $100 million nationally funded COAG (Council of Australian Governments) Tackling Indigenous Smoking program and the $14.5 million from the Federal Government under the Indigenous Tobacco Control Initiative to reduce the incidence of tobacco smoking in Indigenous communities.
This money will provide the resources to 57 Indigenous medical services around the country to install a team of tobacco-prevention health workers, comprising a coordinator and three tobacco-action workers. This team will work alongside the Close the Gap Healthy Lifestyle workers in AMS centres to reduce preventable diseases. Tom will also lead and mentor these initiatives in Indigenous community health services, and advocate and provide advice for 'best practice' pilot programs at a grassroots level.
Tom says the strategy is a multifaceted one. AMS staff, doctors, nurses and health workers and the tobacco-action workers will endeavour to make a concerted effort to talk to smokers about the disastrous consequences of smoking. AMS centres will be smoke-free zones. They will also place an emphasis on prevention, especially for young people, by conducting awareness campaigns at schools and in communities. At the community level, they will develop and promote healthy lifestyle and anti-smoking messages relevant to Indigenous people so that they will hit home.
"Parents who smoke are not good role models for our children. We are the destroyers of our own culture, language and history by smoking. We won't be around to pass on our cultural knowledge to our grandchildren if we die young from smoking," said Tom.
For more info on resources to help Indigenous people to quit, visit the Centre for Excellence in Indigenous Tobacco Control website, www.ceitc.org.au. For help to quit, visit your local AMS, call the Quitline on 131 848 (local call cost) or visit www.quitnow.info.au