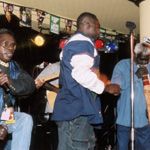 Deadly Sounds Band of the Year 2001: Letterstick Band
Hailing from the remote coastal community of Maningrida in the Northern Territory, Letterstick Band are part of the small An-Barra clan.
The band get their name from one of the most remarkable tools in Aboriginal culture – the 'message stick' or 'letterstick.' This is a piece of wood with a single message or set of messages carved into it, which is handed down from father to son and can be taken from place to place. And like their namesake, these award-winning fullas are spreading the message about their music far and wide.
Letterstick Band is made up of five core members including two sets of brothers: Colin Maxwell on vocals and guitar; David Maxwell on vocals; Tim Wilson on keyboards; Terence Wilson on guitar; and Roly Milak on bass. Drummer Allen Murphy completes the set. Together for almost 20 years, these boys use music to share their stories and instil a sense of pride in their local community.
Tim Wilson remembers a pivotal fishing trip he took with Colin that led to the band's formation.
"There's not much to do around here," says Tim. "We're pretty remote and there isn't an awful lot of work. I was fishing with Colin one day at Kupanga (Blass River) when he said, 'Hey my grandson, why don't you learn an instrument and we'll make a real band.' So I began to learn drums, and then later on keyboards. Once I'd started learning about music it all just came together."
The band soon realised that by playing their music and sharing their culture, they could really live up to their name.
"I've always been political," says Tim, "so I saw music as a way of getting the politics of our community and of the Yolngu people to the rest of Australia and to people all over the world."
Singing in both English and local language from throughout Arnhem Land, Letterstick Band's songs capture the very essence of the life and spirit of their community. And winning the highly contested Deadly for Band of the Year has been one of the greatest accolades in their career so far.
"This is really what we've been aiming for over the past 20 years," says Tim. "It's not easy to get what you aim for, but we just believed and kept on making music."
Unable to make it to the awards in Sydney due to airline issues, the band were forced to wait by the telephone to hear who had won. When the telephone rang, Tim couldn't believe his ears.
"We were all sitting around having coffee saying 'Wouldn't it be great for bands in the Territory and remote communities if we won.' Even though we're really big up here and in Alice, we thought we'd have a hard time beating big names like Yothu Yindi and Coloured Stone. Then the call came through and we just couldn't believe it! Everyone in the community is so proud. I think we've inspired a whole generation to believe in their dreams and be true to themselves."
You only have to witness Letterstick Band performing live to see how energetic and inspirational they are. Their gigs have earned them rave reviews, not only for their beautiful music but also for their incredible corroboree-style dancing. And in addition to touring the Territory and Western Australia extensively, the band like to take time out to visit prisons and juvenile detention centres.
"It's really great to be able to go to the prisons and sing. The songs we write aren't just for us; they are for all our people. Music and dance has the power to heal people and make them realise they aren't alone. By giving them our music and our dance it's like saying 'This is you.' We've got a whole lost generation of people and while governments may have taken some things away from us, they can't take away who we are."
That said, Letterstick Band are very fond of their Maningrida stomping ground and are quite reluctant to leave the community they love so much.
"We've all got families up here and lots of community business to attend to," says Tim. "We like to stay here and perform for our people. It keeps reminding them that you can do anything you set your mind to, and that you need to make your own life happen."
Letterstick Band's songs deal with issues such as the need for healing and the importance of the land. They write about the young ones who may need to heal, and pay tribute to their community Elders. Their debut album, An-Barra Clan, is a 13-track gem that mixes reggae and rock with traditional sounds. With a unique, guitar-driven style that has been dubbed 'saltwater rock', the band have featured on a number of compilations including Triple J's critically acclaimed Meinmuk, on which the band had the opportunity to work with legendary producer (and popular man around Vibe) Chris Thompson.
Currently working on their debut album, Letterstick Band are about to head down to Melbourne to record. And they're priming another generation of An-Barra fullas to take over from them when they get too long in the tooth.
"We've all got kids who have watched us achieve our goals and do really well, and they are really keen to keep the band going!" laughs Tim. "When we were in Alice Springs for the Yeperenye Federation Festival, we were doing all these performances for the CAAMA Fringe Festival. Frank Yamma came in one day and I introduced him to my son. As they shook hands Frank said, 'This is the young Letterstick.' My son was so proud."