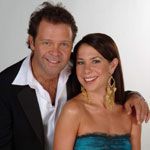 Deadly Vibe Issue 114 August 2006
All the Right Notes
They're two of Australia's best-loved celebrities, and now they've paired up to serenade the nation on a new TV show.
One of Australia's favourite Indigenous music stars has joined forces with Australia's longest-serving soap actor in the hugely successful Channel Seven celebrity reality show, It Takes Two.
Multi-award winning country singing sensation Troy Cassar-Daley has taken Home and Away's Kate Ritchie under his wing in the duet-singing showdown that sees celebrities not known for singing paired with some of Australia's finest singers.
Each week, competing couples perform songs in a variety of styles including rock, pop, RnB and soul, ballads, rock 'n roll, country, big band and swing.
The singers are backed by a live band, and a panel of judges and viewer votes determine who wins.
Although Troy is accustomed to singing in front of thousands of people, performing under this kind of pressure is something else entirely.
"Singing live in front of 1.5 million viewers with someone you've only had a few hours to rehearse with is a pretty scary prospect," Troy admits. "I now understand true nerves!"
Troy had never met Kate before they were matched up for the show, and he was equally unfamiliar with Kate's character on Home and Away, Sally Fletcher.
"I'm not much of a soapie watcher," Troy says, "so I was like, who is this Sally person?
"Kate was saying that everyone knows her as Sally, rather than as herself, because she's been on the show for so many years. But I wasn't familiar with her character at all, so I just know her as Kate."
Troy was impressed with Kate's progress under his tutelage, and the young star impressed the judges with her rapid improvement.
"It's kind of daunting to mentor someone," says Troy. "But Kate really put herself out there. She learned a whole lot of stuff, like breathing, vocal tones and stage presence. And we made sure that our song choices were ones she could relate to."
Last month the two amazed the audience and judges alike, gaining the night's highest score for their rendition of the hit AC/DC classic It's A Long Way To The Top (If You Wanna Rock'n'Roll).
Other songs the pair has chosen include the Motown inspired hit, Give Me Some Lovin', The Beatles classic ballad Yesterday and Olivia Newtown John and John Travolta's hot from the movie Grease, You're The One That I Want.
"We only had a few hours of face-to-face rehearsal time together each week, because we've both got other commitments as well," Troy says. "But we spent as much time practising as we could.
"Last month I was up in Tamworth doing a concert, and Kate flew up. We got her to perform a number with us, and the crowd loved it! She's a great girl."
The whole experience of It Takes Two has been one to relish for Troy, who believes he's learned a lot from it.
"It's been a real journey," he says. "A lot of hard work, but also a lot of fun. It's taught me to appreciate a lot of different genres."
But whether this appreciation will affect Troy's song-writing in future is yet to be determined.
"I'll always stick to country, but the show has really opened up my eyes stylistically," he says. "I guess I'll just have to wait and see what happens when I sit down to write again."
(Story 1/8/2006 end)
Deadly Vibe Issue 109 March 2006
Waxing Happy
Fourteen and counting " Troy keeps on strumming that golden guitar.
Troy Cassar-Daley has added another four Golden Guitars to his already colossal award collection, leaving onlookers to wonder whether he'll soon need to buy another house just to fit in all of his trophies.
Troy was one of the big winners at this year's Golden Guitar Awards, which are held each year at the Tamworth Country Music Festival to recognise and promote excellence in Australian country music songwriting, performance and recording.
Troy took out the Male Vocalist of the Year award, which was presented to him by movie star and some-time musician Russell Crowe in front of a packed Tamworth Regional Entertainment Centre.
But this was not to be his only trip up to the podium. An emotional Troy then went on to win APRA Song of the Year for his track Lonesome but Free, a track which he co-wrote with country music star Paul Kelly while he was cooking spaghetti, and which tells the story of Troy's late Uncle Hoppie.
Up against some of the music industry's biggest names, Troy was also awarded Vocal Collaboration of the Year for his song with rocker Jimmy Barnes, Bird on a Wire, and Instrumental of the Year for Yellow Belly. This award haul takes Troy's Golden Guitar tally to a whopping 14. Add to this his innumerable ARIA, APRA, Mo and Deadly awards and you've got one seriously crowded trophy cabinet.
But this wasn't the only accolade that Troy received at this year's festival. The star has also been immortalised as a wax figurine at the Tamworth Wax Museum " an honour that is only bestowed upon Australian country artists who have made an enormous impact on the industry. Other country music stars that are featured at the museum include Slim Dusty, John Williamson and Smoky Dawson.
(Story 13/2006 end)
Deadly Vibe Issue 94 December 2004
Blooming marvellous
The bright purple blossoms of the jacaranda tree will always remind Troy Cassar-Daley of home.
By the banks of the mighty Clarence River, about 625 km north of Sydney, you'll find one of Australia's most beautiful regional cities " Grafton.
Also known as the Jacaranda City, Grafton is renowned for its blossoming trees, its charming historical buildings and its celebrated son, Troy Cassar-Daley.
It's here that it all began for Troy when, back in his heady youth, he and his mates would play for the crowd at Wiley's Hotel.
"We used to play little gigs there when I was 15 or 16," Troy recalls. "Now when I go back in there to visit the locals, I can see my songs on the pub jukebox. That's a nice feeling."
Troy has certainly come a long way since then. His latest album, Borrowed and Blue, scored him an ARIA nomination, and he also won Artist of the Year at this year's Deadlys.
Troy arrived in Grafton with his mother when he was only 18 months old, and grew up surrounded by family.
"There was a big mob of us," he says. "I had lots of cousins that were all around the same age. We did everything together."
Troy and his cousins spent endless happy days playing all kinds of sports and riding their bikes through the city's leafy streets. But it was the river that always had the strongest appeal, drawing people of all ages to its cool waters.
"The river just drew you to it all the time," Troy says. "Not just for swimming " sometimes we'd all just gather there and have a yarn.
"Some of my fondest childhood memories are of time spent by the river. We used to go fishing and sometimes you'd catch a shark. And when the mullet were spawning you could practically walk across the river on them, the water was so thick with fish.
"We'd also head further up river, where there's a big Aboriginal camp outside of Grafton where a lot of my family come from. We used to catch and eat turtle and catfish " the water was so much fresher back then."
One of the highlights of Grafton's year is the Jacaranda Festival. Each October, the city's jacaranda trees explode in a brilliant haze of purple blossoms, and a special festival that combines culture, sport, music and ceremony is held to celebrate the occasion.
"I get real homesick when I hear about the festival," he says. "I remember as a kid how excited we'd get " we had Jacaranda Thursday on the week before the festival began, and we'd all get a half-day off school. We used to go nuts with water balloons and water pistols " it was so much fun."
Other highlights in Grafton include the local museum, which explores the history and culture of Grafton and the Bundjalung people. One of the latest additions to the collection are some rare photographs.
"Back in the 1800s there was this German fella called J.W Lindt who took these studio photos of some Bundjalung people," Troy explains. "Somehow this year they turned up for auction at Sotheby's in London, and this Aussie couple bought them and donated them back to Grafton.
"It's weird, 'cause when I look at the people in the photos I can see the family resemblance " us mob are all Bundjalung."
Troy is proud of his heritage, and makes sure that his kids are as well. He often takes them out to his family's country, where they make bow and arrows and stalk wallaby.
"The kids love it out there," Troy enthuses. "I get really excited about that. My mum taught me all about our culture and now I'm passing it down to my kids. I think that's really important. A lot of Sydney fellas have links to Bundjalung, and when I'm down there it's like I know everyone. I'm really honoured to be part of this big extended family."
Keep an eye out for Troy Cassar-Daley in the coming months. He'll be playing to huge crowds at next month's Tamworth Country Music Festival, and also plans to release his next album in mid-2005.
(story 1/12/2004 end)
Deadly Vibe Issue 89 July, 2004
The people's champ
Being one of the most popular country artists around, Troy Cassar-Daley spends plenty of time on the road, travelling from city to city and community to community, entertaining and meeting people from all walks of life.
With the release of his latest album Borrowed and Blue, Troy has hit the road once again – but this time around he is adding a new element to his show.
While Troy is already one of the most personable music celebrities you will ever find, he is now reaching for an even greater connection with his audience.
"This show is very intimate," he says. "It's like me sitting on a lounge chair with a harmonica with lots of yarns and people are enjoying it."
The show gives Troy the freedom to get closer to his audience like never before. As well as performing his favourite songs, he now has the chance to explain some of the great stories behind them.
Mirroring the flavour of Troy's current gigs is his new album, a collection of all his favourite musical influences that stretches right back to childhood.
"With this album I wanted to do something that was special and I want to look back one day and see this album as being a bit of a bookmark," he says.
While Troy loves getting out and sharing his music with fans all over the nation, the down side is the time he has to spend away from his young family. Family will always come first, however, and Troy pushed back the release of the new album by two months so that he wouldn't miss his son Clay going into first grade.
"My label understands how much a priority my family is, and I think I am very fortunate as an artist to have that," Troy says.
"But when it's time to go away, my little girl is on the phone every night asking where her daddy is.
"They love the fact that they cross off the days that I am away. And that's the way they cope. If it wasn't for telephones, I wouldn't be able to survive," says Troy.
Having already won two ARIAs for his musical achievements and a Deadly last year for Male Artist of the Year, Troy still recognises the most important part of his career as being the journey itself. The gifts he gives back to his fans and his people are his greatest reward and he remains one of our brightest and most inspiring stars – an automatic choice for one of our most beautiful people.
"I tell kids to stay in school, the importance of going to school, of being proud of your culture and who you are," says Troy.
"That's my biggest award, when kids see a light at the end of the tunnel."
(story 1/7/2004 end)
Troy first visited Tamworth's Country Music Festival at the ripe old age of 12. Who could have predicted that he would go on to become one of Australia's premier country music artists?
In 1994 Troy released his debut EP Dream Out Loud , and was promptly nominated for his first Golden Guitar for Best Male Vocalist.
Troy released his first album Beyond The Dancing in 1995. The record met with enormous success and he was awarded an ARIA for Best Country Record.
At Tamworth's Country Music Awards in 1996, Troy won Best Male Vocalist and embarked on an Australia-wide tour with his idol, Merle Haggard.
A man of many talents, Troy made a cameo appearance in the American film Race The Sun, starring James Belushi and Halle Berry, in which he performed a bar scene set in the outback.
After touring throughout the States  including playing as part of the Australian Country Music Showcase in Nashville, Tennessee  Troy recorded his second album, True Believer, with writer/producer Steve Dorff.
The album was released in Australia, Canada and the US in early 1997, with the video of the first single "Little Things" getting airplay throughout the Pacific Rim and Europe.
Troy played Nashville again and upon his return to Australia was named Entertainer of the Year by the CMAA. As if that wasn't enough, in 1998 he collected three Golden Guitars at Tamworth's Australian Country Music Awards.
Big River is Troy's third album, named after his home town of Grafton. The first single "They Don't Make "˜Em Like That Anymore" has spent 12 weeks at the top of the Country Airplay chart and he has been nominated for a record seven awards at the CMAA awards in Tamworth.
Troy's unique song-writing style is emotional and heartfelt, reflecting his Aboriginal "Maltese background and his love for the country. His Aboriginal mother Irene Daley has obviously had a great influence on him and he is proud of his heritage.
The biggest change in Troy's life of late has been the arrival of his son, Clay. The proud father says; "When children come along, all your priorities get shuffled around. It's certainly hanged my outlook on life. You have to be a responsible father."
Troy has interesting things to say about having to spend so much time away from his family. He compares relationships to gardens that need tending to every couple of days, as it doesn't take long for the weeds to creep in. But for Troy, committed attention to any relationship will ensure its survival in spite of life's ups and downs.
Deadly Sounds Country Artist of the Year 2001 – Troy Cassar-Daley
Last year's Male Artist of the Year Troy Casser-Daley was once again in the spotlight, taking out the inaugural Deadly for Country Artist of the Year in 2001.
Unfortunately the spotlight was purely metaphorical, as Troy was unable to attend the awards night due to a prior commitment. However his good friend (and legend in his own right) Jimmy Little was in the house to accept the award on Troy's behalf.
"When I heard that I'd won the award it felt fantastic," says Troy. "It's so important to be recognised by your own mob and receive acknowledgement."
Troy's Deadlys nestle beside his ARIA award and his six (count 'em!) Golden Guitars. But he's got no time to sit around and admire them. He's just released a new single, "Sad Goodbye", has a website up and running (troycassardaley.com.au) and is set to launch his latest album in the next few months.
"I'm just really enjoying what I'm doing at the moment and I'm hoping that I can keep singing and recording music forever!"
DEDALY VIBE ISSUE 72 February, 2003
If you're ever on tour with Troy Cassar-Daley " who scored big-time at Tamworth this year, winning three Golden Guitars – you can expect to trip over the odd bit of Lego and to have to wait a long time to get to the bathroom. But you'll also be hanging out with one of the nicest fullas on the planet.
Deadly Vibe recently spoke to Troy while he was touring country NSW with kids and Lego in tow. He let us in on the secrets of his success, including the benefits of spending more than a respectable amount of time in the bathroom.
"When I'm on tour I spend hours in the bathroom. It's where I do most of my writing. People think I'm crazy, but just sitting in a good bathroom with good reverb is the best way to write a song. I put a towel over the dunny and sit in there and play, and the sound in there is just amazing," says the award-winning songwriter. "One of the places I stayed in recently, the bathroom was bigger than my house – it was huge. I'd never seen anything like it," says Troy.
It may be a little unusual but it obviously works for this 33-year-old country legend, who has racked up two Deadlys, two Arias and nine Golden Guitars throughout his career. At Tamworth last month, he walked away with three Golden Guitar awards " for APRA song of the year and male vocalist of the year (both for the song Born to Survive) and vocal collaboration of the year (Wish I was a Train with Paul Kelly).
So has the Bundjalung man from Grafton won enough awards yet?
"I think there's always room for more," he laughs. "It makes you continue to want to work hard. I've got a little mantel where I keep my awards and it really is inspiring to walk past them and to think, "˜There's a lot of work that has gone into those awards'. It's acknowledgment that you're out there doing the right thing and doing the best that you can," says Troy.
Born to Survive, which has been hailed as an anthem for drought-stricken farmers, is on Troy's album Long Way Home. The album also showcases Troy's multi-instrumental talents on didgeridoo, acoustic and electric guitar, harmonica and national steel guitar.
"I'd never played harmonica or steel guitar. I'm not the best player in the world but I wanted to give it the true undiluted emotion. It's hard for session musicians to come in and play something written about my grandmother and grandfather. I don't play as tight so it gives it more of a human touch," says Troy.
Despite playing all the instruments himself, Troy says the process of doing the album was very relaxed, and very efficient.
"It was one of the fastest albums I've ever done, because we didn't keep going over and over things. It took about three solid weeks head to head," says Troy.
It might have been a fast album, but that didn't stop it from being nominated for best album at Tamworth. But it's not just because of the awards that Troy has a soft spot for Tamworth. It was, in fact, a visit to the Tamworth Country Music Festival as a child that first inspired Troy to pick up a guitar.
"I think my first trip to Tamworth was with my mum. We booked this little holiday to go and see some live country music. We always had records playing around the house, but I'd never seen it live before. Brian Young, who's been a big supporter of country music his whole life, was playing. It was amazing to see the sort of show that he had put together. I thought to myself, "˜This is what I want to do'," says Troy.
But it didn't come easy for young Troy, who says he had to do some serious work on his mother before she finally relented and bought him his first guitar.
"My mother reckons I nagged all the way back to Grafton for a guitar. That was my turning point. We got a nice little cheap guitar from the local shop and my mum paid it off over a couple of weeks. I was about 11 then," says Troy.
Troy believes it was the support of his family that really helped him stick to his dream to become a country music artist.
"My mother was of the attitude that if you love something enough you should go after it. But she also thought I needed to get something to fall back on, so I went and did a cooking course. For a while I did music and cooking, and it was good to mix them both. But one day I kept burning this garlic bread over and over again, and the chef said to me, "˜Your heart's not really in this, is it?' And I said no, because I was thinking about a gig I had that night. So it was time to go for music whole-hog and starve a bit and that's exactly what I had to do," says Troy.
Determined to make a go of his music, Troy did whatever he had to do to keep the bread on the table and the guitar in his hand.
"I had about four or five years of really living on the breadline. At different times I had to do funny sorts of jobs to keep myself existing. Then I moved out to Tamworth and did a fair bit of work with bands there," says Troy.
Troy believes it was those early days that not only helped him with his music but also helped him with his belief in giving something back.
"I think the country scene in general is one of the most supportive and loyal music scenes. When other people are having a go, there are always people out there trying to support them. I got so many helping hands as a young bloke that it's only right to give back," says Troy.
And that's exactly what he's been doing. A mentor for many up and coming indigenous performers, Troy believes there's a lot of untapped talent out there in the Indigenous community just waiting to receive the right kind of support.
"It's always interesting to see the people out there who've got a lot of talent but don't have the drive to succeed. I believe you only get that drive from people encouraging you. A lot of people will say to you, "˜Don't big-note yourself,' "˜Don't get too big for your boots,' and of course you don't want to go around skiting. But the other side of that is you have to have the confidence to go out and do what you want to do," says Troy.
Troy has always believed in surrounding himself with positive people. It is this approach, he believes, that has helped him through life despite having struggled a little at school.
"I was a bit of a dreamer at school," says Troy. "So if there are kids out there thinking, "˜I can't apply myself to schoolwork' I try to encourage them. I tell them there are other ways to make a living other than the traditional jobs of school teaching or working in a bank or an office. There are artistic things. I continue to try to encourage kids who have those sorts of callings to follow them," says Troy.
Troy has certainly followed his dreams and this year, along with Kasey Chambers, he's been giving back to the country communities that have shown him such loyal support. The two darlings of country came together last month at Tamworth's Bicentennial Park for the "live, free and in the park 2003 for drought relief" concert. More than 25,000 people came along to tap their toes, forget about their worries and enjoy the talents of country music's finest ambassadors.
Deadly Vibe Issue 81
When country music star Troy Cassar-Daley accepted his Deadly for Male Artist of the Year, he also had an important message for the kids around Australia.
After Troy spoke about his fabulous year, in which he performed in remote communities such as Karratha in Western Australia and Hermannsburg in the Northern Territory, he had some special words for his younger fans.
"We've got to keep the music alive, keep very proud of who we are and what we do and keep inspiring the kids," the popular Grafton-born singer said. "So any of you kids watching tonight that are thinking about quitting school, don't you bloody even think about it!"
Troy came on stage to accept his award with his guitar already strapped on. The win was announced just minutes before Troy was due to close the show with the song Down the Road, which he sang together with gentleman crooner Jimmy Little and his grandson James Henry.
Troy had so much fun taking his music into out-of-the-way places that next year he plans to perform in Indigenous communities around Cape York.
Everyone who met Troy at the Deadly awards was impressed by how down-to-earth and friendly he is.
The singer, who lives in Brisbane these days, already has an official fan club with more than 600 members. No doubt a few more fans will want to sign up after Troy's winning performance at the Sydney Opera House!