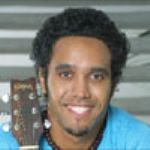 Troy's musical career began at 16 when he taught himself to play guitar from a songbook of "The Shadows" provided by his father. Two years later, his singing talent was noticed by his mother when she heard him and some friends having a sing-along to a boombox in the garage. This resulted in his involvement in the group: AIM4MORE for 4 years.
He next formed the group: JAVA with wife Trevelyn Lakay and Harry Whaleboat (also ex-AIM4MORE). This is now a duo with some backing support from younger brother Darren and sister Bobby-Jo, as they appeared at Survival 2002 to great audience response.
In late 2001, Troy entered the audition process for Channel Seven's Popstars series 3, billed as the world's first TV search for a solo artist. Out of 6,000 entries, on 17 March 2002 Troy was officially announced as being one of The Final 7. The finalists were each required to record their take on Stevie Wonder's classic: Superstition. Troy's rendition is a distinctive soulful R&B version, reflecting his personal style and respect for the original.
About this extraordinary experience, Troy says: : "It's about aiming for my goals. It¹s part of the process, but not all there is for me in music or my life. I feel I'm only part-way in my life – what I have learned from this is don't be ashamed of who you are or where you come from. My main reason for doing this is is to show that anything is possible no matter where you come from – it's a chance to represent my culture to Australia and hopefully even the rest of the world.
Troy is a proud Birriggubba man, born in Rockhampton, north Queensland. He grew up in Inala, Brisbane and initially looked like pursuing a sporting career. He was Australian darts champion in 1994, captained the under-17's State rugby league team (other players included Tony Carroll and Petro Civennociva), and played regional cricket for Mid-West Metro.
Away from music, he works with disadvantaged kids organising cultural activities, camps and festivals.
He will pursue the solo career offered by the Popstars opportunity and maintain his activities with JAVA.
At his performance with JAVA at Survival 2002, he emphasised the need for kids to stick at their education in order to get ahead. In relation to his music, he knows he is doing it for his people and draws from their support.
But when it all comes down to it, he's a great example of an Inala lad doin' good, makin' music and makin' people happy.
Discography:
AIM4MORE album by Aim4More (self-released, 1996). Performs vocals and guitar. Wrote/co-wrote on the 10 original tracks.
JAVA LIVE concert by Java. Unreleased recording of Survival 2002 performance by Koori Radio (Sydney). Sings on all tracks, some guitar.
SUPERSTITION by Troy Brady on The Final 7 single from the Popstars TV program (Warner, 2002). Wrote original rap lyrics.