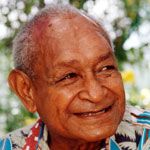 Born in 1929 on Thursday Island in the Torres Strait, Seaman Dan spent years on the water as a pearl diver and later, sea captain. The multicultural atmosphere of the pearling industry exposed him to a range of musical influences that he has incorporated into his music.
Seaman's musical career came to fruition in 1999 when he met Central Queensland University academic Dr Karl Neuenfeldt, who went on to co-produce his first record. Follow the Sun encompasses blues, hula, jazz and traditional pearling songs and is now in its second pressing.
Seaman recently performed at the National Folk Festival and has just released his second album, Steady, Steady. He has just completed a national tour with Peter Brandy.
>Deadly Vibe Issue 83 January 2004
For decades, Seaman Dan was an everyday man who just liked to sing island blues. However, all that changed when he was 70, when his particular brand of mellow music was recorded onto CD.
The chirpy Thursday Islander had spent his life doing other things – working as a cattle hand on Cape York during World War II, diving for trochus shell, which was used to make buttons, and deep-sea diving for pearls.
He was given the nickname Seaman Dan by a fellow crew member when he was working to find trochus shell, and it has stuck ever since. His real name is Henry Gibson but these days everyone knows him as either Seaman Dan or Uncle.
Seaman Dan was working as a deckhand on a pearling vessel when he first became interested in putting on the heavy diving helmet and walking along the bottom of the ocean in search of precious pearls.
"Once you put the helmet on, you think you're somebody," he recalls.
He learned how to recognise the camouflaged pearl shells in their natural environment, and how to cope with the dangerous area east of Thursday Island known as the Darnley Deeps, where he dived to depths of 30 to 40 fathoms (up to 75 metres below the surface).
"That's a different world altogether," Seaman Dan, now 74, says. "You can only stay down there for 15 minutes."
In fact, he almost pushed it too far one day when he rose to the surface too quickly, climbed back on board the ship and "everything went blurry".
If divers don't come up in stages, and wait at certain depths for prescribed periods of time, they can develop air bubbles in their bloodstream. This is commonly known as "the bends" and can be fatal.
"Through greediness – I wanted to pick up more pearl shells – I almost lost my life," he says. "But if I had my life to live over, I'd do pearl diving again."
All the time, though, Seaman Dan was writing songs, and performing them at parties whenever he went ashore. In 1983 he wrote the tune TI Blues, which the Mills Sisters turned into a hit 10 years later.
Yet Seaman Dan, the man behind the song, might not ever have been recorded himself if it wasn't for a meeting with music anthropologist Karl Neuenfeldt. Karl, who works for Central Queensland University, had come to TI to interview Indigenous musicians, and a friend of Seaman Dan's told Karl about the remarkable singer who was living in their midst.
"I sang five songs for him and he said, 'You've got a nice voice – would you like to make a recording?'" Seaman Dan recalls. "This was the chance I'd been waiting for for a long time, and I grabbed it with both hands and said, 'Yes please'."
Since Follow the Sun was released in 1999, Seaman Dan has taken his blend of blues, hula, slow jazz and salty sea songs, sung in different languages, to concerts and festivals such as the Woodford Folk Festival in Queensland, and kept up a Sunday residency at the Jardine Motel on Thursday Island. He recorded a second album, Steady Steady, in 2002.
He finds inspiration wherever he goes. For instance, he wrote Red Shirt Day for his latest album, Perfect Pearl, after he heard a barmaid called Rachel at the Torres Hotel on TI say that she was wearing red to cheer herself up about working on a Sunday.
"I got a TAB ticket and wrote a verse. I showed it to Rachel, then got another TAB ticket and wrote the second verse," Seaman Dan says.
He went home to finish off the song, and recorded it onto a small tape recorder he keeps at home. The recorder was given to him by Karl, who has become a good friend, and is one of Seaman Dan's few nods to modern times.
The great-grandfather lives a simple life in TI, where he doesn't even have a telephone! However, he hopes that by taking his music to the world, the younger generation growing up on TI realise that they, too, can follow their dreams.