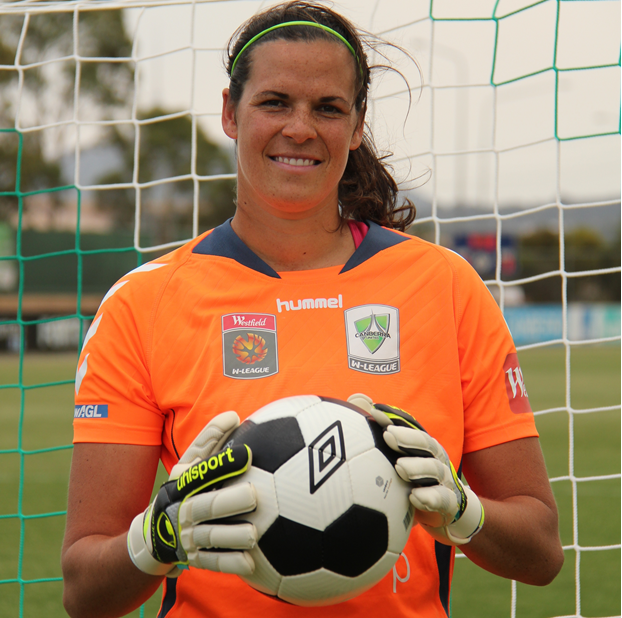 Many would argue that being a goalkeeper is the most difficult position on the soccer field.They are the last line of the team's defence and use their body as a shield to keep that ball out of the net at all costs, not to mention being the eyes of the team keeping other players in position and using their massive kick to set up, hopefully, fruitful plays.
Doing all this and more is hard enough at the amateur level, so you can imagine the pressure on Canberra United FC's Lydia Williams.
Lydia, 25, grew up in Kalgoorlie and played any sport she could get into before finding her natural position as goalkeeper when she moved to Canberra, albeit, it was the only position left – and the rest is history.
"I was playing basketball, AFL, soccer – pretty much everything but I think I liked soccer the most because it rid of all my energy. My parents wanted me to stay with that so I
didn't come home so hyperactive," she says.
"When I was in Kalgoorlie I played AFL so I was good with my hands and when I moved to Canberra it was the only position left in the team so I thought 'Oh, why not?' I ended up playing really well and the coach was like 'You're not moving'."
From there, Lydia played junior football for Tuggeranong and Woden and later joined the Australian Institute of Sport Football Program. Then in 2008 she joined the Australian W-League team Canberra United FC. From 2012-2013 she played for the Swedish club Piteå IF before returning to Canberra United.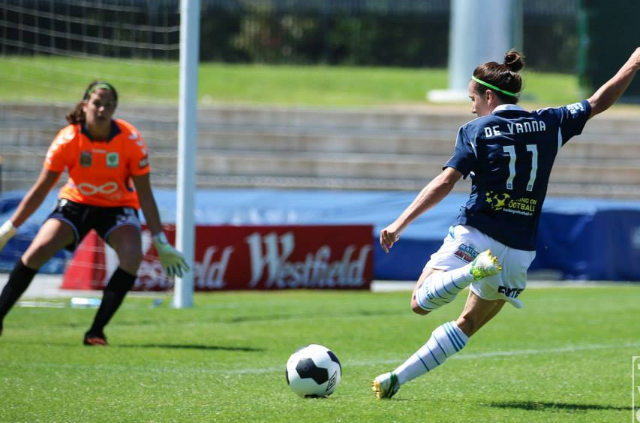 Not only has she played domestically, Lydia has represented Australia on the world stage with the Matilda's, playing all over the world in countries like Russia and Brazil.
"I love going to different places and seeing the cultures and I get to play the sport that I love playing and meet new people. I've got to experience a lot of things that you normally wouldn't in a lifetime," she says.
Representing your country in the most fanatical and popular game on Earth is not for the faint-hearted. Lydia trains daily to keep at the top of her game both physically, mentally and emotionally.
"I think it's really hard on you mentally, so obviously you have to be really resilient emotionally and you can't take things to heart. I guess that's how I grew up a little bit as well. Both my parents were really strong people so I probably inherited that from them," she says.
"It's just complete concentration. Obviously, you can't just think about yourself during the game, especially as the goalkeeper, you have to do your job but also, more importantly, you have to direct the field players and organise defence.
"It's a very unselfish position where you have to be the eyes of everyone else if they can't see but you also have to make sure you're ready for anything that comes because you're the last line of defence.
"Sometimes they say that most goalkeepers are crazy. I like to think I'm one of the sane ones but I definitely think you have to be a little bit crazy to play in that position."
Lydia admits that she is a bit of a restless person who finds it difficult to sit still which makes her a perfect person to be in goals, and watching Cathy Freeman at the 2000 Sydney Olympics may have lit the flame of her desire to dominate the sport.
"I remember watching the Sydney Olympics with Cathy Freeman running and that was the big moment where I thought 'I want to be like her'. With everyone enthralled in one woman racing, that probably sparked the competitiveness in me to give it my all in sport," she says.
"Watching it with both my parents and hearing the crowd behind her was probably one of the most memorable things I've ever seen in sport and in general."
Just like Cathy – one of Lydia's biggest inspirations – she hopes to one day represent Australia in the Olympics.
"My ultimate goal would be to make the Olympics. It's the pinnacle of all sport where everyone wants to go. It's a competition celebrating everyone from every country in nearly every sport. After that, I'm happy for wherever my life takes me," says Lydia.
"There are so many opportunities but you have to earn it to go which I think is even more special. You can't just pay, you have to actually earn a spot and beat some of the best teams in the world.
"I'm just going with living a professional athletes dream at the moment."
Where might her life take her?
"I'd love to get back over to WA and those areas to see what I grew up with and try and teach the kids a few things like leading healthy lifestyles. In WA AFL is obviously the big sport so I'd try to get some more soccer clinics."
In the meantime she will continue to play for Canberra United FC and hopefully reach the final in the end of February.
"Sometimes you might need a bit of a wakeup call with a few hard losses to really getting your blood going again and really wanting it," she says.
"I'm looking forward to the rest of the season. We have some good games coming up, so it should be good."
For anyone that wants to get into soccer and one day play at the elite level there may be no one better to take advice from.
"You have to have the drive and really want to do it. Try and find a club to play at and ultimately, have fun. As long as you're having fun anything can happen, so I think that's the most important thing," she explains.