• Name: Kerrianne Cox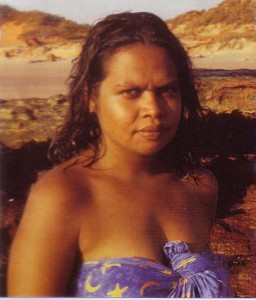 • Who are your mob? Bardi – Numunburd
• Band: Solo Artist
• Position in Band: Singer/Songwriter/Guitarist
• How old are you? I am 22 years
• How did you get into music? I grew up on music influenced by my family who are renown thru out the Kimberley for Country Music
• What's your favourite food? Seafood and curries
• What's been the high point of your career so far? I would have to say "SURVIVAL 97" in Sydney on Aussie Day
• What do you do in your spare time? Fishing and time with my family (back to my roots) Beagle Bay Community, and I work on my original song writing and arranging.
• Do you play any sports? Swimming and bush walking
• What's your favourite song? I have not got a favourite song
• Besides your music what music do you listen to? I listen to jazz, blues, country, rock – just anything that takes me.
• What are you most looking forward to in 1997? Consolidating my career
• Do you have a partner? Maybe! Maybe not!
• If we opened up the top drawer of your bedside table what would we find? Books on new age thought
• What makes you laugh? Life and it's ups and downs.
• What's your favourite movie? Sci-Fic – all
• Who do you admire the most and why? My Grandfather because of his positive influence in our family and his desire for success in my chosen career.
• What do you like about yourself? That I'm a strong person and I know what I want and things I must do to achieve my desires.
• Where do you get your hair cut? I ask my Aunty which I need to have one
• When you were a kid, what did you want to be when you grew up? I wanted to be a school teacher.
• Do you have a nickname? What is it? Queen, K.A. and on a bad day "Bitchface"
• What has been the most embarrassing thing that has ever happened to you? At "SURVIVAL" my guitar pickup wouldn't work due to the rains and a muso kindly lent me his guitar, after helping me and saving me seconds before I performed, he introduced himself (Troy Cassar-Daly)
• How would your best friend describe you? A free spirit with strong opinions and empathetic to the situations around me
• Have you ever been in love? Yes! And it has influenced some of my songs.