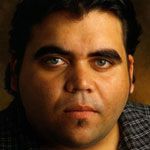 Deadly Vibe Issue 102 August 2005
Poetry in Motion
For one young writer, winning is twice as nice
Receiving recognition for your achievements in the shape of an award is always a gratifying experience. But for one young poet from Brisbane, this experience was twice as special " and for good reason.
Samuel Wagan Watson, a 33-year-old Bundjalung and Birri Gubba man who also has German and Irish ancestry, recently won two top prizes for his collection of poems entitled Smoke Encrypted Whispers .
Samuel won both the Kenneth Slessor prize for poetry and the 2005 Book of the Year at the recent NSW Premier's Literary Awards, held in May of this year.
When presenting Samuel with his award, Premier Carr said: "Samuel Wagan Watson's Smoke Encrypted Whispers is a powerful collection of poetry and speaks with a new voice from a younger generation of Australian poets."
Samuel's work follows his own journey as a writer and an Aboriginal, and deals with both the personal and the political. One reviewer described his work as "a stunning collection of exhilarating road poems, urban songlines and ancestral ties that have become the hallmarks of this popular young poet."
This isn't the first time that Samuel has been awarded for his work. In 1999 he won the David Unaipon Award for his previous book, Of Muse, Meandering and Midnight.
Smoke Encrypted Whispers is available at all good bookshops and from University of Queensland Press at uqp.uq.edu.au
(Story 1/8/2005 end)