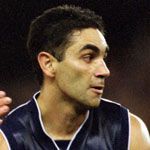 Ronnie Burns (Geelong) left foot boomerang goal from 35 metres under pressure in a pack against West Coast at Subiaco. Now in his fifth season his defusive skills are unequalled as his ability to play consistantly.
Ronnie loves performing for the crowd and this match was no exception. His kick under pressure, out of the pack, was trademark Ronnie. He provided Geelong with the incentive they needed to march into the finals is exciting to watch and always unpredictable.

end
Ronnie Burns has been the Cats' leading goal scorer for the past four seasons. Apart from putting points on the board, Ronnie is renowned for his on-field artistry and ability to do the unpredictable. Which helps to explain why he has got so many fans!
Ronnie's bag of tricks are almost legendary. There's his trademark dummy handball, his classic Burns left-foot on-the-run banana shot for goal, and his mind-numbing blind turns and weaves. They're all a part of the unique Ronnie Burns show and proof positive he can do things other players simply can't!
Ronnie' s breathtaking pace never sees him run down. He can read the ball well and see the big picture before most.
Ronnie is a rare commodity in the AFL. He definitely scores more than just points on the scoreboard with us at Vibe!