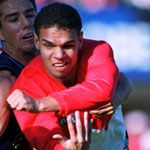 Sydney Swans Star Surfs it Up
Hitting it out this summer is Sydney Swans star Robbie Ahmat, who's well known for having kicked the goal of the year in the 2000 AFL season. Robbie is currently undertaking some extreme boxing training this summer, consisting of punching the bag, skipping and plenty of sit-ups and push-ups.
Along with all of the boxing, Robbie also follows a pretty demanding diet.
"I've cut back on the Coca-cola and fatty foods, meaning no more take-away for me. I'm also eating more salads which has really helped me with all my training."
Deadly Vibe caught up with Robbie and asked him what he got up to over his spring break.
"I had an extended 10 week holiday because of the Olympics, so I headed back to my home town of Darwin for five weeks to spend time with family and friends and enjoy some good Darwin weather. I then flew across to Brisbane for four days to spend some time with my girlfriend and do some shopping. Then went back to Sydney for another two weeks and then back to Darwin for the remainder of mf my holidays. Once the holidays were up it was back into training again. But I'm looking forward to next year's football competition."
In Robbie's hometown of Darwin the main activity to do over summer is play footy, as the footy season actually runs during the summer in Darwin.
"Football is seen as really big in Darwin and it's really good to see that everybody gets into it."
Robbie's favourite summer activities are to play a little basketball, slip into a pair of footy shorts and bodysurf down at Maroubra Beach, slurp on a chocolate PaddlePop and read his favourite magazines British Soccer Weekly and of course Deadly Vibe.
And last of all, does Robbie have any advice for our readers throughout the hot summer months?
"Enjoy the sun, but never stay out in it too long. And always remember to use sunscreen to avoid skin cancer."