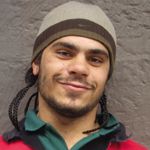 Deadly Vibe Issue 91 September 2004
The waiting game
His SG Ball coach, John Amato, has called him "probably the best prospect to come through the juniors since Braith Anasta", and his ability to score tries has been described as "freakish".
Richard Williams has been targeted as a future first-grade player for the Rabbitohs. With those kinds of expectations hanging over him, can he keep his feet on the ground and his mind on the game?
It certainly seems so. This reserved young man doesn't seem to have a pretentious bone in his body; instead, he's keeping his sights firmly set on training hard and playing each game to the best of his ability.
"When I was younger and playing rep and people said things about me, that was pretty exciting," the 18-year-old admits. "But now I just want to play well and prove myself."
Richard, who has been playing football since he was three, was spotted by Souths' talent scouts while playing for a State representative team at the age of 15.
"I was pretty surprised," he says. "But that's what I'd been working towards."
Richard is playing for the Rabbitohs in the Jersey Flegg – the under-20s competition. He's also just finished the SG Ball season (under-18s), in which he was the leading try-scorer.
Apart from training five days a week, Richard is also looking into a building apprenticeship. He is also busy being dad to eight-month-old son Tahi.
"The name means 'number one'," Richard explains. "Being a dad is amazing, although it's hard work!"
Hard work and sacrifice are something Richard has had to become familiar with. While most of his mates are out partying, he spends his time training, at games or with his young family. But with such a focused attitude, it surely can't be long before he receives that crucial phone call – telling him he's been picked for the first-grade team.
"It could happen at any time," he says. "I just have to keep playing well, trying hard and waiting."
What is your full name?
Richard Charles Williams.
Do you have a nickname?
Poss.
When is your birthday?
May 31.
Where is home?
NSW South Coast.
Do you have any brothers and sisters?
I have one brother and one sister.
What team did you support as a kid?
The Canberra Raiders. I really admired Laurie Daley.
What's the worst thing about training?
The fitness training, with all that running.
What do you do for fun?
Surf.
Who is your biggest inspiration?
My mum and dad.
What is your favourite part of Australia?
Cairns.
What is in your CD player at the moment?
Scribe.
If you could have any superpower, what would it be?
To fly – it would make scoring tries really easy!
Who's real deadly in your eyes?
Joe Williams (Rabbitohs halfback)
Where do you see yourself in 10 years' time?
Hopefully playing first-grade football.
(Story 1/9/2004 end)