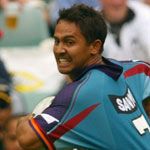 Deadly Vibe Issue 71 January 2003
Mackay's own Aaron Barba has hit the jackpot and signed a contract to play for last year's premiership winners Sydney Roosters this season.
The seed was sewn in 2001 when the young winger/fullback was gunning for Norths Devils in the local grand final. Ian Graham, a player from the other side, told Aaron he had the kind of talent that could take him far. In fact Ian was so impressed, he phoned his old club Redcliffe Dolphins in Brisbane and urged them to give him a go.
The Dolphins, who compete in the QRL and are the Roosters' feeder club, wasted no time in offering the 21 year old a trial. They liked what they saw and so Aaron packed his bags for Brisbane.
Aaron started the year with a bang, but suffered a shoulder injury midseason. Thanks to some rehabilitation, however, he was back on the field after five games and powering by the end of the season.
Putting in a strong performance on the field for the 2002 Queensland Cup, which the Dolphins won, Aaron was approached by none other than Roosters talent scout (and former Dolphin) Arthur Beetson.
"I was sitting with a couple of mates having a chat after the game and Arthur Beetson came up," says Aaron. "He said I had the ability to play first grade, and that if I put on a bit of bulk and trained hard I could go places. That made me pretty excited."
Accordingly, the Roosters flew Aaron to Sydney last December for a week of training.
"It was a real buzz," he says. "I met up with Shannon Hegarty, who's also from Mackay, and Justin Hodges, who I used to play against. They made me feel really welcome. All the time I was thinking positive. I felt that if I did all the right things and dedicated myself, then I could succeed and make my mark."
The dedication paid off when Aaron was signed for a one-year holding contract with the Roosters, which means he'll be training with, and learning from, the best.
Known to his team-mates as "˜Ali' " "he had quick hands and I have quick feet," he quips " Aaron has creativity, speed and superb ball skills on his side.
With a bit of luck, he could be firing in first grade alongside Hegarty and Hodges before the season is out.
(story January 2003 end)