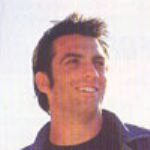 As a third-year acting student at Sydney's National Institute of Dramatic Arts (NIDA), Ngadjuri fulla Russell Smith is treading some of the most hallowed boards in the country. It makes quite a change from one of the first venues he performed in " a public lavatory.
When he was 16, Russell joined a Perth-based theatre group and helped devise a play called Urinal. The set-up: three male actors standing discreetly behind the "˜trenches' at an actual toilet block, with the audience invited in to watch. Strategically placed bottles of water provided the necessary sound design in the pauses between dialogue. Performance anxiety, anyone?
Fast-forward a couple of years and after several failed attempts to get into acting school, Russell enrolled in a musical theatre course at the Western Australian Academy of Performing Arts (WAAPA). Auditioning for NIDA as part of his course requirements, he so impressed the lecturers he was accepted into the intensive degree in 2000.
As if being in his first year at NIDA wasn't stressful enough, the Seven Network turned up to film Drama School that year, a docudrama charting the progression of the lucky few as they honed their craft.
"It was our year they followed around and there were cameras everywhere," recalls Russell, now 23. "We had to sign a declaration saying we agreed to be filmed, although we were shown the footage before they screened it."
Among other things, Drama School highlighted the financial struggles of students who, during production time, have to rehearse up to seven days a week, making it almost impossible to have part-time work.
"I've gone through five jobs," he chuckles. "It's not because I didn't like them. It's because at production time you simply can't hold one down. Abstudy doesn't cover all your living expenses, so it's been hard. But you do learn to appreciate things more and you end up supporting each other. When someone doesn't have food or money, you bring them around to your place for a feed."
It shouldn't be long before Russell has his pick of jobs, as he's due to graduate at the end of this month along with classmate Michael Tuahine (see story page six). First, though, the pair have their end-of-year production to get through: the world premiere of the late Dorothy Hewett's Jarrabin, to be directed by head of school, John Clark.
All of this from a fulla who had to repeat his HSC and who, even then, didn't make it into the acting course he first auditioned for.
"I fell so many times when I was growing up. I didn't get the score I needed for uni, I had to repeat Year 12 and I had plenty of auditions that I didn't get. But I didn't give up because it was something I wanted and needed to do. It's almost a cliché, but getting knock-backs is how you learn the most. There are so many ways to get into what you want to do, you've just got to look for them. Use the side window if you can!"
The "˜side window' approach has obviously worked for this talented young actor. He's already got a show organised for next year's Perth International Arts Festival.
"We're performing a three-man show about depression and suicide by Sara Kane called 448 Psychosis. Unfortunately Sara committed suicide after she wrote the play, so you could say it's her farewell to the world."
First, though, he's got that production of Jarrabin to get through, including a final performance 1 November, also known as Agents' Day.
"Jarrabin is set in a country town in Western Australia and there are some blackfullas in there as well. It's about what goes on in the town and how people want to leave their mark."
Thanks to his determination and talent, Western Australia's own Russell Smith is set to leave his mark on more than a country town.