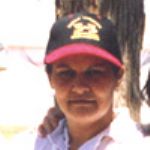 >Deadly Vibe Issue 73 March 2003
There are many Aboriginal organisations throughout Australia that understand and recognise the needs of their local communities and residents. They work hard to fulfil these needs and to produce a better living and working environment for their people.
One such organisation is the Mildura Aboriginal Corporation and one of the driving forces behind its day-to-day operations is Patsy Doolan. Vibe spoke to Patsy about her role and the progress her organisation is making.
Patsy was born in Mildura in 1968 and has lived there ever since. Mildura, which sits right on the NSW and Victorian border, is deep in the Sunraysia district. Although Patsy was born on the Victorian side, she spent her childhood on the NSW side, on Barkinji land.
She has strong family ties to her sister Katrina and brothers Leslie and Graham. Between them they have 19 children. Patsy and her husband Peter, who works as a supervisor for GTS Transport in Mildura, have five of their own: Gregory, 18, Peter-Leigh, 15, Aroha, 14, Kiah, 12, and Latoya, 10.
She attended Wentworth Primary, Gol Gol Primary, St Francis Xavier Primary, Pomona Primary and Ellersley Primary schools before going on to Coomealla High and then Lake Cargellico High School for six months of Year Seven.
She showed versatility at sports, playing hockey, netball, basketball and softball at school and also in the evenings. She was also into athletics as well.
After leaving school, Patsy's first job was as a receptionist for the Department of Agriculture. Following that she worked in other numerous jobs in Dareton until joining the Mildura Aboriginal Corporation. Patsy has been employed at the corporation now for nine-and-a-half years and she currently holds the position of Aboriginal Child Specialist and Support Service.
The corporation provides housing and education programs and has its own health unit. " We get notifications from various parties like schools, police, neighbours, etc, regarding people who have been abandoned, are experiencing incidents at home, have personal traumas or other various problems which they may not be able to cope with," she said. "We do our best to protect and aid them and, to an extent, rehabilitate them."
Between work and motherhood she somehow found time to attend the Sunraysia Institute of TAFE as a mature-age student. She did a Certificate 4 in Common Competencies and received a Diploma in Community and Health Management at the Ballarat University.
She is also a Victorian honorary bail justice. "At various times I attend after-hours court sessions and it's my duty to decide if people who apply for bail, whether Indigenous or non-Indigenous, are qualified for it to be granted."
Over the past three years, Mildura has played host to the National Indigenous 3 on 3 Basketball & Hip Hop Challenge, an event produced by Vibe each year. Patsy has played a key role in its success. She has filled the role of chairperson on the 3 on 3 steering committee, which is required to provide on-ground support before and during the event.
"The 3 on 3 has been fantastic for Indigenous people in Mildura, particularly our youth. It's boosted their confidence and they know that they're able to enjoy sport in a friendly and competitive manner," she said.
"Everyone looks forward to the 3 on 3 and it's a highlight of the year for us when the event comes to town. Last year was the largest gathering of Indigenous people in Mildura in memory. I enjoy it immensely and love being involved," she said.
She has always been inspired by her parents and grandparents, and credits them with being good role models. As for the future, "I would like to be a good mother first and then hopefully everything else will fall into place with my community. You have to practise what you preach," she said.