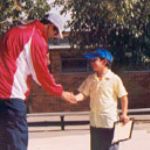 Winner: Blayde Foley
School: Padstow Heights Primary School (Padstow NSW)
Padstow Heights Primary School, NSW – August 19, 2003
Blayde Foley is the only Aboriginal student at Padstow Heights Primary School in Sydney's south-west. And thanks to a terrific story Blayde entered in Deadly Vibe's 'My Story' competition, his school was paid a memorable visit by Sydney Swans player Michael O'Loughlin
Vibe staff arrived at Blayde's school early on August 19 with plenty of food ready to go for a big barbecue for Blayde's class.
Blayde's mum was on hand to help with food preparations and, while the BBQ was getting fired up, Michael O'Loughlin made his way over to Blayde's classroom to tackle some questions from the kids who had been watching tapes of his games.
Michael and Claude Williams then spoke to the school during assembly, before Blayde and his class headed for the snags and sandwiches. In between bites, Michael kicked some footy with the kids while giving out advice and encouragement.
Everyone at the barbecue had a great time, and no one more so than Blayde, who had a well-deserved, memorable day for his great achievement. Congratulations Blayde, and good on you Michael for coming out and giving the kids a great day. Vibe looks forward to the next round for entries of the 'My Story' competition, so keep those stories coming!