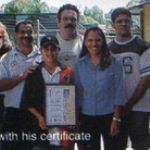 Winner: Wesley Middleton
School: Delroy High School. (Dubbo NSW)
WESLEY MEETS HIS FOOTY HERO
Wednesday, 27 February was an important date for Dubbo's Delroy High School. Year 8 student Wesley Middleton had won the 'Take an Ambassador to School' essay-writing competition and the Vibe team was travelling to the central New South Wales town to reward him and all his classmates with a sizzling barbeque event.
Sponsored by the Commonwealth Department of Education, Science & Training (DEST) through its National Indigenous English Literacy & Numeracy Strategy, the barbeque had a special guest in the form of Literacy & Numeracy Ambassador Cliff Lyons.
Vibe members Denise Wilson, Claude Williams and Jason Morton arrived at the high school with league legend Cliff in tow to set up for the barbeque and presentation. And Cliff proved to be a legend with the barbeque as well – boy, could he flip them snags! The team was also aided by three of the Year 12 boys: Wesley's older brother Willy, and two of his mates, Shane Egan and Brad Flick.
Before the team knew it, lunchtime had rolled around. The quadrangle quickly filled up with some 200 hungry students, who cheered Wesley on as he went up to receive his plaque and prize pack from Cliff. After a presentation that was short and sweet, it was finally time to eat, eat, eat!
"It was a great day, and one that Wes will remember for a long time because he got to spend it with his hero Cliff Lyons," says Col Anderson of the school's ASSPA committee.
Kerry Gainsford and Joy Simpson from DEST's Indigenous Education Branch were also on hand to congratulate Wesley for his fine achievement and share a snag or two with the kids.
Vibe would like to give a big shout out to Col Anderson and advisor James Eddie for all their help in organising and running this event.