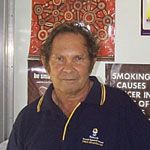 Deadly Vibe Issue 107 January 2005
Taking it to the Streets
An Aboriginal Health Worker is honoured for his commitment to care.
Every Monday and Tuesday afternoon after he finishes work at the Derbarl Yerrigan health service in East Perth, Aboriginal Health Worker Neville Bartlett gets in his van and drives to Fremantle to run the StreetDoctor service.
The service has been running since 2002, and offers free physical, mental and social health care to the sick, the poor and the homeless.
Neville's dedication to his work was recently recognised at the Aboriginal Health Promotion Conference in Fremantle, where he was awarded the Social and Emotional Wellbeing and Mental Health Award.
"Our clients are mainly from the Indigenous community," Neville says. "But the service is not confined to them. We give help to people of all races."
Working alongside Neville is care aide Alwyn Coyne, and a doctor and nurse from the Fremantle Division of General Practice.
"We see an average of six people per night," Neville says. "But on occasions we have treated up to 15. Our profile is so good now that people are often queuing up waiting for us to arrive."
The van parks at the same location for three hours each week, so people know where to come for medical assistance.
"Availing themselves of our service means they don't have to go to Fremantle Hospital where it's possible they might wait for up to three hours before being seen," Neville explains. "So the hospital really appreciates what we do, because it is taking pressure off them."
Although he's not a qualified counsellor, Neville, who is a Nyoongar Elder, describes "listening skills" as an essential requirement for this kind of work.
"Some of the people we service just want to talk," he says.
Word of mouth has been the best marketing tool for the service, but sometimes Neville will take a walk round the streets and parks of Fremantle handing out cards to people he thinks it could benefit.
Once, he dropped into a Dockers training session where, after finishing his "marketing" round, he met coach Chris Connolly and players Troy Cooke and Justin Longmuir.
Neville's work with StreetDoctor has been such a success that its services have now been extended, and are now available in a new area every Wednesday afternoon.
(Story 1/1/2006 end)