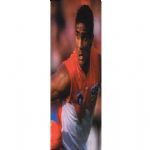 Story: Michael O'Loughlin
Michael O'Loughlin knows what footy practice and learning to read have in common. The Swans star talks to Deadly Vibe about signing up as the latest Literacy and Numeracy Ambassador.
High-profile footballer Michael O'Loughlin remembers very well the consequences of not doing his homework when he was a child. "No homework, no football!"
The Adelaide man who plays half-forward/midfielder for the Sydney Swans learned young that a good performance in the classroom was just as important as brilliant legwork during PE.
"A lot of kids associate school with being boring," says Michael. "I was the same as every other kid in that I didn't want to do my homework. But to survive in the world on a day-to-day basis, it's very important that you're able to read and write, and add up numbers."
Now an ambassador with the National Indigenous English Literacy and Numeracy Strategy, an initiative of the Commonwealth Department of Education, Science & Training, Michael talks to Aboriginal young people around the country about the importance of staying focused in the classroom.
"When kids ask me what the score is, I tell them it comes down to hard work. When I was younger I thought football was just a matter of rocking up and playing. But it's like school – the harder you work at it the more rewards you get. If I have 100 practice shots at a goal before a game, I'll go into the game more confident. Similarly, the more you read the easier it becomes."
Michael is honoured to have been asked to participate in such an important initiative.
"The Literacy and Numeracy program is a great idea and I'm all for it. The kids even get little show bags – now I wish they'd had something like this when I was at school!"
As a youngster Michael remembers what a privilege it was to meet some of his football heroes like Derek Kickett and Paul Kelly. Now a certified national hero himself, Michael is more than happy to continue the tradition.
"The kids just want to have a bit of fun. I chat with them and then we kick the ball around for a bit. I like mucking around with the kids because I'm just a big kid myself!"
Michael is particularly looking forward to attending a 'Take an Ambassador to School' barbeque sometime in the year. Could there be a Blacklock/O'Loughlin double act in the pipeline like Two Fat Ladies?
"I could certainly cook the food and Nathan could certainly eat it all!" jokes Michael. "But seriously, I'm really looking forward to getting out on the road and meeting the kids."
And when he's out there, don't expect him to go easy on those who just want to play football all day, every day.
"It's crucial that our people have English literacy and numeracy skills so they can become better. We don't need more footballers or top sportspeople – we have plenty. What we need more of are Aboriginal doctors and lawyers, people like that. We need to push our people up."
Want Michael O'Loughlin to come to your school? Then enter the 'My Story – Take an Ambassador to School' competition.