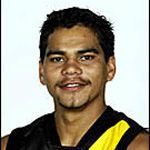 Deadly Vibe Issue 71 January 2003
After finishing 14th on the 2002 ladder, Richmond Tigers will certainly be looking to improve this season. One Tiger cub who may well be instrumental in making that a reality is Martin McGrath.
Martin had a very productive season last year playing in the Victorian Football League (VFL) with Richmond's feeder club Coburg Tigers, who advanced to the preliminary final before being beaten by Port Melbourne.
"It was a good learning curve for me," says Martin. "I was very happy with my performance. I kicked 48 goals and took the Mark of the Year. To be presented with a trophy for that by the VFL was great."
Born in 1984 in Perth, Martin started playing football for local team Armadale before being selected to represent his state at the 2000 U16 national championships. It was there that the Tigers' recruitment manager Greg Beck spotted him.
"The playing conditions in Hobart were very sloppy that day and when Martin took a strong mark in the forward pocket I could see he had potential," recalls Greg. "He also had some "˜special tricks' that he produced when in possession of the ball, and with his versatility I thought he could one day play at AFL level."
Martin went on to hone his skills at South Fremantle Colts in the West Australian Football League for a year before being drafted to the Tigers in late 2001.
According to Greg, he is a long-term prospect for the club. "In one year he has gone from 62kg to 73kg and also improved his game. I expect him to play eight to ten top grade games this year, to build up and become even better."
Now halfway through his two-year contract, the half-forward flanker is looking forward to playing as many senior games as possible this season. "The Tigers are stronger and if we do most things right and are consistent, we'll definitely be in with a chance to make the play-offs."
His top-grade debut should also see him playing against cousins Cory McGrath (Essendon), Ashley McGrath (Brisbane), Leon Davis (Collingwood) and Dion Woods (Fremantle). Is he nervous about staring down family members on the field?
"I will be nervous about playing my first top grade game but not that nervous about playing against them. I'll just treat it like another game."