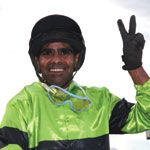 Riding High
Deadly Vibe Issue 117, November 2006
In a sport that has seen very few black faces in the elite level, jockey Lyall Appo can hold his head high as a true pioneer for Indigenous racing.
Lyall Appo may have never won the Melbourne Cup or the Doncaster Handicap, but in Queensland racing the Appo name is as highly regarded as a Darren Beadman or Mick Dittman.
Lyall has been racing just about every weekend for the past 25 years. A Wakka Wakka man an d t he eldest of nine children, he grew up on stations in and around his home town of Eidsvold in regional Queensland.
"I come from a generation of stockman and grew up on property," Lyall says. "That's where I learne d t o ride, on stations.
"All my life we were brought up as ringers (cattle station workers) and every kid was taught from our uncles how to ride."
With the encouragement of family an d t he help of friends in Eidsvold, Lyall was given the chance to become an apprentice jockey when he was 15 years old.
"Because I'm a little fella, my Uncles had always told me that I would make a good jockey," Lyall says. "Being in the country there were always race meetings on and all of my uncles would ride in stockmen's races, so one thing I always wante d t o be was a jockey."
Lyall began his apprenticeship in Toowoomba in 1981 and, with the knowledge passed down to him from his uncles and the experience he had gained during his years spent riding on stations, he was a racing natural.
Before long Lyall was riding in Brisbane, sharing the track with some of the best jockeys in the word and going head-to-head with Mick Dittman and Graham Cook, the leading jockeys in Brisbane at the time.
While Lyall's success on the track seeme d t o come naturally, it was not all smooth sailing as he became the only black face at the majority of the big races.
"There was a lot of racism in racing when I started," Lyall admits. "It's hard, as an Aboriginal kid, to make it in a white dominated sport " there weren't any other Aboriginal identities racing at that time who I could relate to. Now when I see Aboriginal kids that are riding who look up to me, I know why.
"In Queensland I was very successful. I made a name for myself and my people; for my Aboriginality. It's something I'm very proud of."
Lyall's achievements have given him plenty to be proud about. He has won the Exhibition, the Metropolitan Handicap an d t he St Margaret's Handicap " all major races in the Sunshine State.
He has ridden winners at top Queensland tracks Eagle Farm and Doomben, Ipswich an d t he Gold Coast, and over the years he has seen the change in attitude from the people in the stands.
"I get a lot of support from the public now," Lyall says. "When I use to go out as a kid, people would be on the fence an d t hey'd be saying "˜oh, look at the black fella riding', you know? But now its, "˜oh, Appo's here'."
Lyall's achievements also extend beyon d t he track and into the boxing ring, where he won a Queensland and Australian strawweight title in 1993. Lyall took up the sport initially to lose weight for racing, but after entering some jockey bouts his close friend, Queensland boxing legend Jeff Malcolm persuaded Lyall to take the sport more seriously.
"It was hard," Lyall says, "but it was something that I ha d t he opportunity to do, and I did it properly."
Few people realise the rigours of being a professional jockey " the constant battle with gaining and losing weight and the ever-present risk involved with what is one of the most dangerous sports in the world. Success in racing requires not just incredible commitment but also courage and faith in one's own ability.
"The physical side of it does take a toll on the body," Lyall admits. "But I've been pretty lucky all my life.
"I've been a natural at it and I thank my culture for that, because I got them Murri legs!"
Lyall has broken both his ankles and his wrist, and last year he had a bad fall and broke his arm.
"They're things that, as a jockey, you've got in the back of your mind," he says. "But you know your own ability " it doesn't really worry me."
While most of the jockeys Lyall grew up with have long passed in retirement, at 43 years of age Lyall is still going strong and is planning on racing for many more years to come.
"I'm at a stage in my life now where I am really happy and content with racing," he says. "I've got a lovely wife and I've got three children, including a 13 year-old boy who I'm hoping will follow in the footsteps of the Appo name in Queensland racing.
"Mate, I'll ride for as long as my body and my health allow me. I feel like I could ride for another 30 years " that's how good I feel!"
Aboriginal people have always had a special connection with horses since white settlers brought the beasts to Australia, from the countless Indigenous stockmen who became rodeo legends to the famed "Queensland Black Watch" of the 11 th Light Horse Brigade. Some Indigenous riders have even manage d t o crack the exclusive equestrian sports.
Then, of course, there are the great jockeys. From the legendary Peter St. Albans " who won Melbourne Cup at just 13 years of age " to Leigh-Anne Goodwin, Frank Reyes and Darby McCarthy, Indigenous jockeys have faced a hard road in racing, but through determination and ability they have achieved some amazing feats.
"Racing has given me respect in myself, not only as a jockey but as an Aboriginal person," Lyall says. "It's something that I'm very proud of " that any Aboriginal kid who walks into a jockey room can stand up and say "˜I'm not afraid', because he's got Al Appo there and people know that."
Lyall is a trailblazer in every sense of the word. One day in the future, another Indigenous jockey will take the spoils at the Melbourne Cup an d t hey will have Lyall Appo to thank.
"I'd tell every Aboriginal kid not to be afraid of their ability," he says. "Be proud of who you are, be proud of achievement in your ability as sportspeople, and be proud of your Aboriginality."