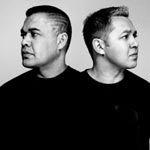 It's been a long time coming, but the Street Warriors' first full-length album really packs a punch.
Good things come to those who wait, which is probably why the Street Warriors' recently released debut album, Unstoppable Force, took seven years to make.
Riding a wave of momentum ever since their tribal call to arms, 'Blackfellas', back when they were part of Local Knowledge, brothers Abie and Wok Wright have been the pacesetters of Indigenous hip hop, despite brandishing only a single EP (2007's Real Knows Real) to their name.
"It has been a long time coming," admits Abie, "but we never wanted to rush it. We wanted to wait until the right time, and everything has come together now, from production to management and everything we've learnt over the past seven years – the time was right and we're really happy to finally have it out there."
Make no mistake: Unstoppable Force is a statement in Australian hip hop.
The album opens with 'Firestorm', a summation of the Street Warriors' journey and ethos, a mission statement to the masses.
"Just like the lyrics say, 'Step by step you do it/Town by town you show it', it's been our journey and this album is like the culmination of that. That's what 'Firestorm' is about, and who would have thought back when we first started out that seven years later there'd be so many other Indigenous hip hop artists out there?" says Wok.
ndeed, Street Warriors can be very proud of the role they've played in the current explosion of Indigenous hip hop.
They showed it could be done and, in the process, never compromised their message. At the same time, they've reached out to a wider audience, mainly through last year's remake of Goanna's hit 'Solid Rock', recorded with Shannon Noll – the success of which has taken both of them by surprise.
It was after filming the video clip for 'Solid Rock' with Noll that Abie and Wok found themselves sitting at a backyard campfire in Gunnedah, NSW, with about 30 local kids, many of whom had crashed the party after finding out the Street Warriors were in town.
With a camera on hand, the film clip for 'Firestorm' was shot right then and there. It was a nice juxtaposition to the shoot with the ARIA chart-topping Noll only hours before, and indicated what this outfit is all about: reaching out to the masses, but first and foremost being spokesmen for their people.
It's a motive embellished on tracks like 'On The Edge', which the boys recorded for a television series looking at the challenges facing Indigenous youth in Sydney's West. Abie raps in the first person, but tells the story of a close friend, while Wok draws on the countless workshops they've held with Indigenous kids over the years, retelling the all-too-familiar stories the kids from the streets have shared.
"It really makes you angry," says Wok, referring to the frustration the boys have felt after visiting so many communities.
"We're just sick of seeing those people who are out there to make money off the situation in Aboriginal communities, rather than actually trying to help the community," he adds.
It's little wonder the Street Warriors have resonated with so many in the community, just like those 30 kids in Gunnedah – after all, it's their own stories they hear in the Street Warriors' music. Above all, the boys are dedicated to representing Indigenous people and the Indigenous struggle to the fullest, as they outline on 'Rep For My Mob', featuring a guest spot from none other than Anthony 'The Man' Mundine.
"Anthony has become a close brother to us," explains Wok. "He's one of those people we've crossed paths with over the years and we collaborated with him before for a track on his album.
"We'd already recorded 'Rep For My Mob', but Anthony was really keen to be a part of it, and we thought it was the perfect song for him, with what he stands for."
The song provides the album with the high-energy black anthem the Street Warriors have built a reputation for, but with tracks like 'How Much You Mean To Me', the boys prove they have a few more tricks up their sleeve.
"We wrote 'How Much You Mean To Me' in a hotel room while we were on the road. We were really missing our families at the time, and this song just flowed out of us. It's probably my favourite track on the album," says Abie.
On the track, which features the beautiful voice of Robyn Loau, Abie raps to his mother while Wok raps to his children.
"This was a different kind of track for us," adds Wok, "but it worked out really well. Robyn Loau got involved and she added that really nice soft touch to it – it shows a different side to us. It's definitely one of the more personal tracks we've done."
Looking back on the sweep of the past seven years, the meaning of Unstoppable Force begins to make a lot of sense.
There's almost an air of destiny to what these two brothers are achieving, but it's all underlined by hard work and an immense amount of self belief.
The Street Warriors have landed, and with the ears and hearts of an entire generation of Indigenous people propelling them forward, as the title of their debut suggests, there's no stopping them now.