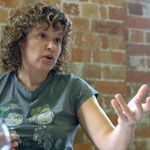 Deadly Vibe Issue 111 May 2004
Irish Eyes
Deadly Vibe recently caught up with Leah Purcell and got an insight into the creative processes of one of our most talented directors.
Leah Purcell only knows one pace when it comes to anything she turns her hand to, and that's flat out.
Fresh from roles in the play Stuff Happens and feature film Jindabyne, this Jill-of-all-trades and unstoppable ball of energy has jumped back into the director's chair for her latest project, Howie the Rookie, which opened on April 20 and enjoyed a successful nine days at the Brisbane Powerhouse.
"I've directed documentaries and short films on a professional scale before," Leah says. "But I guess this is a first for me in commercial sense, so there was a little bit of pressure to really raise the bar."
15 years ago, Leah was touring her successful stage show Box the Pony around Ireland when by chance she stumbled across an Irish play called Howie the Rookie. She went to watch the Irish production, wanting to see how the actors looked and sounded. She soon found herself completely blown away by the story, which she immediately planned on adapting for Australian audiences.
"First of all, as an actor the story is water-tight," she says. "It's phenomenal and it's phenomenally written.
"It comes from the Irish, and to me they are the blacks of Europe because of the oppression, the invasion, the loss of language and culture, so I connected to it on that level. But I also connected with the story and the words. It's written almost in poetry – in verse form with short, cut sentences. I just sat there and went 'wow'. When I closed my eyes and just visualised it with Australian accents it could have been the boys where I come from talking about the same things."
"Then as a director I thought this would be great to do. Here was a play that could adapt very easily into our style of talking. All we had to do was change the Irish slang to Aboriginal slang, and it has transcribed beautifully."
It may be hard to comprehend how a very Irish play could be successfully adapted to portray the experiences of Aboriginal men in Australia. But while the play may have been conceived by an Irishman, for Leah the issues were universal.
"For me, this play is about brotherhood. Brotherhood in families, brotherhood in gangs, brotherhood when you've got the pressure of society on you," she says. "It's also about the lifestyles of the men in that world, who have to fight and be ultra-violent to protect their family, because I guess all they can offer is that protection.
"In other productions they look at the alcohol that's involved and all of that stuff, but I'm more looking at the social pressure that is applied and how people relate to that. I'm not blaming anything; it's just the cycle of life. The actors are about 30 years old and in the story the characters are as well, so they're older but still caught up in these cycles."
The actors Leah mentions are Aaron Fa'aso and Simone Hapea, both young, both extremely talented raw actors and both Torres Strait Islanders. But according to Leah, their Torres Strait heritage didn't play a part in their casting for the roles.
"Actually, I didn't know Simon was Torres Strait Islander," she admits. "I didn't cast them because of it, I cast them because they were both very warm, very keen and very eager. I just liked their style, I liked their innocence."
"I cast them on their eyes actually, because when you're performing everything comes from the eyes. It's a challenge for both of them and why not? That's what acting is all about."
Just from listening to Leah speak, it's obvious that her creative drive runs on all cylinders. And while Aaron and Simon know they are being worked hard, they also know they are being guided by one of the best in the business.
"I can tell them to stand to the left and right and then it's up to them," Leah says. "I can tell them what passion I need from them and then it's their challenge to rise to that demand."
While Leah made a name for herself in performing before moving on to become a successful writer and filmmaker, it's directing that provides her with her greatest and most rewarding challenge.
"As a director you've got to have your finger in every pie," she says. "You've got to know everything because everyone comes to you. It's a massive job, but it's great too because you make sure you cover your backside and you know what you're doing. If I don't know what I'm doing then no-one else knows what they're doing."
Howie the Rookie is not just a milestone for Leah Purcell; it's also the premiere production of new Indigenous theatre company Kooemba Jdarra, run by Raymond Blanco and Marilyn Miller.
"I'm very honoured that Marilyn and Raymond asked me to do this," Leah says. "It was their first commercial venture. We actually smashed the stereotype here – this is the first play where we had an Indigenous actor, an Indigenous production company and an Indigenous director doing a non-Aboriginal play.
"We made it our own. It is very black – it is us."
(Story 1/5/2006 end)
Deadly Vibe Issue 104, October 2005
Leading Lady
Stuff was really happening for Leah Purcell on Deadlys night.
She's one of our most talented sistas, and so it came as no surprise when Leah Purcell was named Actor of the Year at this year's Deadly Awards. Leah won the award for her critically acclaimed performance as US National Security Advisor Condoleezza Rice in the hugely successful play Stuff Happens.
Leah's eerily accurate depiction of this powerful woman was described as "magnificent" by critics, and won her the Deadly over fellow nominees Luke Carroll from The Alice, David Page who was nominated for both his one man play Page 8 and the film Green Bush, and Deborah Mailman who sparkled in The Sapphires.
The glamorous actress looked stunning in a backless black evening gown, and the audience cheered loudly as she made her way across the stage to accept her award, which was presented to her by SBS presenter and producer Karla Grant and sprinter Patrick Johnson.
"I'd like to dedicate this award to my mother and my grandmother," an emotional Leah told the audience, "who both made so many sacrifices so that I could be free."
Leah had earlier treated the audience to a brief rendition of Condoleezza Rice while presenting the awards for Band of the Year and Most Promising New Talent in Music with fellow thespian Michael Tuahine, much to the delight of the crowd.
(story date October 1, 2005 end)
Deadly Vibe Issue 89, July 2004
Taking on the world
As a girl growing up in Murgon in central Queensland, Leah Purcell never dreamed that one day she'd be performing on Broadway.
But that's exactly what happened when Leah recently spent more than two months touring the United States as an Eisenhower Fellow, which is a prestigious program for emerging leaders from all over the world.
Leah, 33, performed 50 minutes of her play Box the Pony at a theatre on New York's 42nd Street – perhaps the most famous theatrical strip in the world.
"It went really, really well," says Leah. "It looks like we might be taking the show back there."
Another of her highlights was visiting Pine Ridge Indian Reservation in South Dakota, and meeting the Lakota people. She also had an amazing experience in Phoenix, Arizona, when she and her fiancé Bain Stewart were invited by the Jila people to take part in a sacred sundance ceremony, in which offerings are made for the wellbeing of the children.
Leah also visited Detroit City, where she saw first-hand how African-American women were working to get their kids into education and culture.
She also grabbed an opportunity to be photographed with elder statesman Henry Kissinger. "He knows a good sort when he sees one," laughs Leah.
Leah returned to Australia and hit the ground running. She's in the middle of writing a feature film about netball, she's working on a book about her grandmother, which is going to be called Run Daisy Run, and she's also set to return to her hometown of Murgon.
During September and October, she will be helping Murgon and the nearby community of Cherbourg celebrate their centenaries.
Leah plans to stage a production of The Vagina Monologues, a play which celebrates the empowerment of women. "The opening night will be for Indigenous women," she says. "I like to give back to my girlfriends because they keep me grounded."
She also plans to present Piccaninni Dreaming, a production for primary school students from Queensland's Kooemba Jdarra theatre company.
(story date July 1, 2004 end)
After Boxing The Pony right around the world, Leah Purcell is ready for her next big event. She talks to Deadly Vibe about Black Chic's Talking, a project that's bound to make everyone sit up and listen.
Pullquote: "People write to thank me for being so honest and for sharing my story with them. They appreciate the fact that I'm happy to talk about the hard issues, but how are we going to resolve things if we can't talk about them?"
Pullquote: "If there's a brawl or someone gets arrested, then the media will be there in two seconds flat. But when it comes to positive black stories – well, often they're just not that interested."
It's tempting to see Leah Purcell's life thus far as a kind of 'rags to riches' Aboriginal fairytale. There's the poor background, the teenage pregnancy, the alcoholism and the suicidal thoughts. Then there's the road-to-Damascus moment of realisation, the rehabilitation and education, followed by a fast-paced rise to fame and fortune.
But for a Murri girl from Kingaroy country with a lifetime of stories inside her head, things weren't quite as cut and dried. For one thing, fairy tales have a habit of making everything seem effortless and preordained. And if Leah hasn't worked her guts out to get where she is now, then we at Vibe don't know what hard yakka is. "I'm a country girl who dreamed big and I still do!" she laughs.
Hard work does have its rewards though, and in 2001 there can't be many people in Australia who don't know something about Leah Purcell. After Cathy Freeman, she is arguably the best-known Aboriginal woman in the country, thanks in no small part to her prolific acting, singing and writing career.
Police Rescue. Fallen Angels. Bran Nue Dae. The Marriage Of Figaro. Somewhere In The Darkness – these are just some of the TV shows, plays and films she's taken part in. But what really put her on the map was Box The Pony, her smash-hit one-woman show about growing up in Murgon, Queensland with an alcoholic mother and an uncertain future. Because her white father was married to someone else, Leah had very little to do with him. However she did learn, along with her brothers and nephews, how to box. In fact, nine of Leah's relatives have been boxing champions at one time or another and, as a little girl, she carried the spit bucket for many of them.
Boxing became a metaphor for the strength required to succeed in life, not to mention the backbone of her play. Box The Pony packed a real dramatic punch and was the hit of Sydney's Festival of the Dreaming in 1997, for which it was commissioned. Leah has subsequently 'boxed' around Australia, and the world, wowing audiences at the Edinburgh Arts Festival and London's prestigious Barbican Theatre, where Bob Hawke led a standing ovation for her on opening night.
Written by Leah and playwright Scott Rankin, Box The Pony was published in 1999 by Hodder Headline and went on to win the NSW Premier's Scriptwriting Award. The stage production garnered Leah a Helpmann Award nomination for 'Best Female Actor In A Play'. And then there were the column inches, TV and radio appearances, and Elle's inaugural Visible Difference Award. "Her incredible fight back from despair will inspire every woman," decreed the magazine.
After so much hype, you might have expected her to quietly retreat into the background, fulfilled but exhausted. From mission life to mission accomplished. But if you thought that, then you don't know the irrepressible and highly charged bundle of energy that is Leah Purcell. Rather than taking the soft option of clinging to a winning formula ("Box The Pony On Ice – An Arena Spectacular!") she's struck out in a bold new direction. Well, a number of them actually.
First and foremost is her new project, Black Chic's Talking (BCT). Taking the forms of a book, documentary, play and multimedia exhibition, BCT explores what it means to be a successful Indigenous woman in Australia right now. To do this Leah interviewed a number of women, including Miss Australia 1999 Kathryn Hay, AFI award-winning actor Deborah Mailman, netballer Sharon Finnan, Bangarra dancer Frances Rings and film director Rachel Perkins. Other interviewees included a community worker and the owner of an Indigenous PR/modelling agency.
"I thought it would be nice to hear from young black women on issues regarding the past, present and future," she says. "I wanted people with a voice and an opinion. And because I wanted to focus quite heavily on the future, I chose women who were 35 or under." The youngest, at 22, is already a lawyer and plans to become a UN high commissioner one day.
While the book, doco and play (which will premiere at next year's Brisbane Festival) are still in the pipeline, an exhibition of paintings of Leah and the chicks by acclaimed portrait painter Robert Hannaford has already had its world premiere at the Dubbo Regional Gallery. The exhibition, which includes excerpts from the interview transcripts, will travel around Australia in the next year or so.
"We thought it would be great to talk to the women while they were getting their portrait painted, and Robert is known for his speed," she says. Leah adores her own stately portrait, in which she is depicted wearing an Aboriginal flag T-shirt designed by Peter Morrissey. And for once, she's not showing off that devilish smile of hers. "There's another side to Leah Purcell than all grin and teeth!"
Also in the pipeline, or the can, is Lantana, a film she just finished shooting alongside Geoffrey Rush, Anthony La Paglia and Barbara Hershey. Produced by Jan (The Piano) Chapman and written by Andrew (Head-On) Bovell, Leah describes it as a mature romantic thriller that doesn't insult its audience's intelligence. "This is really my first commercial feature film, and I couldn't have asked for a better foot up!"
Then again, it's not like her co-stars were working with a complete unknown. Earlier this year, Leah was the recipient of a Trust Award For Excellence at the Matilda Awards in Brisbane for her contribution to the arts in Queensland and internationally. "To be acknowledged by my peers for all the hard work I put into Box The Pony was a huge honour," she says. "But I'm also very moved by all the emails and faxes I get sent about the play, which is now on the high-school curriculum in New South Wales and Queensland. People write to thank me for being so honest and for sharing my story with them. 'I get it now, I understand', they say. They appreciate the fact that I'm happy to talk about the hard issues, but how are we going to resolve things if we can't talk about them?"
Thanks to her tenacity, intelligence, style and hard work, Leah now has the kind of profile that can put issues firmly on the public agenda. Elle magazine profiled her again recently in a Top 10 list of inspirational Australian women, along with Robyn Nevin, Jennifer Byrne and Gina Riley. While Leah was chuffed, she says that the media still has a long way to go in Australia when it comes to Aboriginal people and culture.
"There's a big mob out there busting their guts in their chosen professions, and it's up to the media to get out there and find them. If there's a brawl or someone gets arrested, then the media will be there in two seconds flat. But when it comes to positive black stories – well, often they're just not that interested."
Leah Purcell is a notable exception, and she's got the clippings to prove it. One can only hope that as more and more black chicks like Leah start talking, the rest of Australia will be ready and willing to listen.