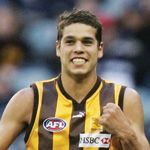 Deadly Vibe Issue 105, November 2005
The Natural
In a sport already bursting at the seams with talented young players, one rookie stood above the pack in 2005.
The quality of talent breaking into the AFL in the modern game is at such a high level that when a club's top draft-pick gears up for his debut season, he carries more expectation and pressure than ever before. Some players manage to live up to the hype and go on to become the pivotal star the club officials and fans hoped them to be. Many others don't.
One player who has not only lived up the hype but exceeded it in 2005 is high-flying Hawk Lance Franklin, one of the AFL's true success stories.
Franklin was the name on every Hawks fan's lips in 2005. Drafted by Hawthorn as their second pick and the fifth pick overall in the 2004 draft, Lance got off to one of the most spectacular starts to an AFL career in some years.
Before joining the Hawks, Lance played for West Perth in the WAFL and represented Western Australia at last year's AFL Under-18 championships. He was also a graduate of the AIS/AFL Academy.
This tall, athletic and extremely talented 18-year-old is the type of player who simply oozes natural ability with every touch, kick and run.
Lance began the season in blazing form, kicking three goals against Richmond at the MCG in only his second game. He then earned the AFL's Rising Star nomination for round four in an upset win over the Brisbane Lions, where he had 14 touches.
While he came with some high expectations, not even the Hawks could have predicted what a spectacular debut season Lance would go on to have. Within only a handful of games, he became one of the Hawks' most popular young players. So popular in fact, the club's merchandise store at the MCG ran out of their entire stock of Franklin-related gear!
Although it was his size and speed which initially caught the eyes of fans, it was Lance's seemingly effortless abilty to adjust and adapt to league football wich had the experts so surprised.
Nicnamed "Buddy" after his father, who played State Hockey for Western Australia, Lance comes from an exceptionally talented sporting family. His sister Bianca plays netball for the Australian Under 21s squad, his sister Bree is also a succesful netballer and his sister Michelle is a succesfull cross-country runner.
Lance went on to play 19 out of the 22 games of the 2005 season, and while Hawthorn may not have made the finals, with Buddy on their books the Hawks are sure to be soaring sooner rather than later.
(story date November 1, 2005 end)