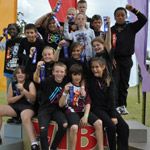 Vibe Alive has hit the ground running in 2010, launching it's latest season of events with a massive two days of fun and activities in Moree on May 19 and 20.
If you were hoping to gauge just what an impact Vibe Alive has had on students from around the country, you only had to chat with one of the many teams at Moree last month who travelled from all over regional New South Wales to attend the first event of 2010.
After visiting the western New South Wales town of Coonamble over the past two years, in an effort to share the festival with more communities, Vibe Alive shifted its New South Wales event to Moree this year, but that wasn't about to deter students who'd already travelled long distances to attend previous Coonamble events, and weren't about to miss out on this all encompassing music, dance, sport and health festival that's quickly gaining steam as the premier youth event in the country.
"What a killer way to start the 2010 season of Vibe Alive," says event producer Mayrah Sonter, who watched Vibe Alive skyrocket into a whole other dimension in Moree in terms of participation, enthusiasm and community support.
"We now have teams following us from across the state, which shows just how much young people look forward to the event, the excitement and enthusiasm we are seeing from them is really inspiring."
Over 5000 people packed into the Community Concert on the night of May 19 to watch Shannon Noll and Street Warriors perform their hit single 'Solid Rock', amongst a host of other show stoppers on the night that had the community rockin'.
Just over 17000 students attended the Moree event in all, getting the festivals 2010 season off to a flying start.
"There was just a great sense of pride throughout the event and Moree was really proud to have Vibe Alive in their town – we were overrun with volunteers and our role models were awesome," says Mayrah.
"Albert David was amazing, it was the first time we've had a Torres Strait Island dancer on the crew and the kids really loved that, the Street Warriors were local boys returning home so of course they got a massive reception, and Olympian Nova Peris made her first appearance at a Vibe Alive as well and was a big hit."
With hardly a moment to catch their breath, the Vibe Alive crew quickly packed their bags and headed for the next event in Townsville on May 26 and 27, and more events are on the way in August and September.
Vibe Alive is a two day festival for young Australians of all backgrounds that promotes Aboriginal and Torres Strait Islander cultures and encourages tolerance and teamwork.
Vibe Alive incorporates music, sport, dance and art in a high-energy, youth-friendly setting with a carnival feel. Participants also have the opportunity to meet inspiring role models, learn about healthy living and career options and boost literacy and numeracy skills.
MOREE WINNERS
GOOD VIBRATIONS RIBBONS
JUNIOR GOOD VIBRATIONS
PRESENTER TONY MUNDINE SENIOR
PLACE TEAM NAME SCHOOL
2ND COLEBEE CRAWFORD PUBLIC SCHOOL
2nd COLLARENEBRI 1 COLLARENEBRI CENTRAL SCHOOL
1st WELLINGTON WEDGETAILS WELLINGTON PUBLIC SCHOOL
MIDS GOOD VIBRATIONS
PRESENTER JUANITA DUNCAN
PLACE TEAM NAME SCHOOL
2ND DELROY DELISH' NASCA
2nd EALES MIDS 1 MOREE SECONDARY COLLEGE (CAROL AVE CAMPUS)
1st WAREENA GIRLS WALGETT COMMUNITY SCHOOL
HIGHS GOOD VIBRATIONS
PRESENTER ALBERT DAVID
PLACE TEAM NAME SCHOOL
2ND NYNGAN ALL BLACKS 1 NYNGAN HIGH SCHOOL
2nd NYNGAN ALL BLACKS 2 NYNGAN HIGH SCHOOL
1st PHILLIES CREW SAINT PHILOMENAS
PAINT IT UP RIBBONS
JUNIOR PAINT IT UP
PRESENTER UNCLE JIMMY LITTLE
PLACE TEAM NAME SCHOOL
3rd BEYONCE'S WARIALDA PUBLIC SCHOOL
3rd WATTLE GUNNEDAH SOUTH PUBLIC SCHOOL
2nd LADY GAGA'S WARIALDA PUBLIC SCHOOL
1st BORONIA GUNNEDAH SOUTH PUBLIC SCHOOL
MIDS PAINT IT UP
PRESENTER WOK WRIGHT & ABIE WRIGHT – STREET WARRIORS
PLACE TEAM NAME SCHOOL
3rd THE DREAMTIME WARRIORS MACINTYRE HIGH SCHOOL
2nd FREEMAN MIDS 1 MOREE SECONDARY COLLEGE (CAROL AVE CAMPUS)
1st WAREENA GIRLS WALGETT COMMUNITY SCHOOL
HIGHS PAINT IT UP
PRESENTER GEOFF ROBINSON
PLACE TEAM NAME SCHOOL
3rd COLLIE KIDS COLLARENEBRI CENTRAL SCHOOL
2nd EALES HIGH 3 MOREE SECONDARY COLLEGE (ALBERT STREET CAMPUS)
1st PHILLIES CREW SAINT PHILOMENAS
COMMON GROUND
JUNIOR COMMON GROUND
PRESENTER AARON FA'AOSO
PLACE TEAM NAME SCHOOL
3rd WELLINGTON WEDGETAILS WELLINGTON PUBLIC SCHOOL
2nd BOGAN BUGS NYNGAN PUBLIC SCHOOL
1st CHANDLER CHECKERS CHANDLER PUBLIC SCHOOL
MIDS COMMON GROUND
PRESENTER CARL MCGRADY
PLACE TEAM NAME SCHOOL
3rd EALES MIDS 3 MOREE SEONDARY COLLEGE (CAROL AVENUE CAMPUS)
2nd FREEMAN MIDS 3 MOREE SEONDARY COLLEGE (CAROL AVENUE CAMPUS)
1st CONDO "WIRRADJURI DREAM TEAM" CONDOBOLIN HIGH SCHOOL
HIGHS COMMON GROUND
PRESENTER WAYNE CRAIGIE
PLACE TEAM NAME SCHOOL
3rd RAFTER HIGH 3 MOREE SEONDARY COLLEGE (ALBERT ST CAMPUS)
2nd EALES HIGH 2 MOREE SEONDARY COLLEGE (ALBERT ST CAMPUS)
1st FREEMAN HIGH 2 MOREE SEONDARY COLLEGE (ALBERT ST CAMPUS)
PUTTING IT TOGETHER
JUNIOR PUTTING IT TOGETHER
PRESENTER ANTHONY ROBINSON
PLACE TEAM NAME SCHOOL
3rd ROCKIN ROLLERS TINGHA PUBLIC SCHOOL
1ST NURRANGINGY CRAWFORD PUBLIC SCHOOL
1st COLEBEE CRAWFORD PUBLIC SCHOOL
MIDS PUTTING IT TOGETHER
PRESENTER JILLIAN CAIN
PLACE TEAM NAME SCHOOL
3rd WAREENA GIRLS WALGETT COMMUNITY SCHOOL
1ST TRANGIE MAGPIES TRANGIE CENTRAL SCHOOL
1st FREEMAN MIDS 3 MOREE SECONDARY COLLEGE (CAROL AVENUE CAMPUS)
HIGH PUTTING IT TOGETHER
PRESENTER DARYL SMITH
PLACE TEAM NAME SCHOOL
2ND NASCA ALL STARS ALEXANDRIA PARK COMMUNITY SCHOOL
2nd NYNGAN ALL BLACKS 1 NYNGAN HIGH SCHOOL
1st TRANGIE MAGPIES TRANGIE CENTRAL SCHOOL
OVERALL DIVISION WINNERS (MEDALS)
JUNIORS OVERALL MEDAL
PRESENTER NOVA PERIS
MEDAL TEAM NAME SCHOOL
BRONZE NURRANGINGY CRAWFORD PUBLIC SCHOOL
SILVER BOGAN BALLERINAS NYNGAN PUBLIC SCHOOL
GOLD BOGAN BUGS NYNGAN PUBLIC SCHOOL
MIDS OVERALL MEDAL
PRESENTER ESTHER CHAPMAN
MEDAL TEAM NAME SCHOOL
BRONZE THUNDER OXLEY HIGH SCHOOL
SILVER LIGHTNING OXLEY HIGH SCHOOL
GOLD WAREENA GIRLS WALGETT COMMUNITY SCHOOL
HIGHS OVERALL MEDAL
PRESENTER LLOYD MUNRO
MEDAL TEAM NAME SCHOOL
BRONZE EALES HIGH 1 MOREE SECONDARY COLLEGE (ALBERT ST CAMPUS)
SILVER NYNGAN ALL BLACKS 2 NYNGAN HIGH SCHOOL
GOLD NYNGAN ALL BLACKS 1 NYNGAN HIGH SCHOOL
BARRY JOHNSON SHIELD AWARD FOR THE BEST AND FAIREST IN THE SPIRIT OF VIBE
PRESENTER NEIL O'MEAGHER
WINNER SCHOOL
CRAWFORD PUBLIC SCHOOL
THE VIBE ALIVE MOREE CUP
PRESENTER GLEN CRUMP & KERRIE HAYES & AUNTY MARGIE ADAMS
TEAM SCHOOL
WAREENA GIRLS WALGETT COMMUNITY SCHOOL