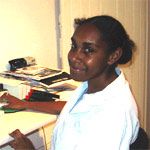 >Deadly Vibe Issue 83 January 2004
Over the past month, the Deadly Vibe office has had the pleasure of working with a talented young Indigenous student by the name of Lala Perina.
Lala is a student at Alexandria Park High School in Sydney, not far from where she lives at Leichhardt, in the city's inner-west.
Originally from Mackay in Queensland, Lala has spent the past seven years living in Sydney with her family. She has just completed Year 11 at Alexandria Park, and has been undergoing work experience at Deadly Vibe magazine, where she has been helping in the design and editing department of Vibe Australia, dealing with all facets of the company.
"I came to Vibe to do IT work as part of my work experience and to learn about design," says Lala.
"Since I've been here, I've helped to edit things such as the writing competitions and have designed business cards for the company.
"I've learnt about different types of design programs and how to use them," she adds, "and I've enjoyed the work I've done here because at the end of it you have learnt something new."
Lala's work within the company also reflects Vibe's commitment to encouraging Indigenous youth to be the best they can be in developing their career.
"Lala is going great guns with her work experience at Vibe in the area of graphics and design," says Gavin Jones, the managing director of Vibe Australia.
"Young Indigenous people not only have great potential on the sporting fields of Australia, but they are also rising stars in all careers.
"Vibe is very proud to offer young people a hand up rather than a hand-out, and the best way a young person can get a start is through developing the skills you need to get a job – the best way to do that is through work experience."
Lala has also been overseeing the images that are saved into the images file for Vibe's new-look website, and has been loading stories onto the Vibe website as well.
"In the short time she has been with us, she has laid out "˜with compliments' slips and amended other small design projects, using the In Design program," says Pauline Bielecki, the designer of Deadly Vibe magazine.
"She has picked up everything really well and has displayed a talent for design."
Lala has had a strong interest in art and design for as long as she can remember, and has designed posters for her school in the past. As well as having an interest in art, Lala is also a keen sports lover " she competed at the Vibe 3 on 3 at Minto early last year.
"I didn't really know what to expect before I got here," says Lala about her placement at Vibe Australia, "but it's really cool and I think everyone here is doing a really good job.
"I want to get involved with design work in the future and working at Vibe has made it easier for me to learn about how everything works."
As well as working on the design aspects of the magazine, Lala has also been involved with the running of the Vibe website and moderating the Vibe chat room, a task usually performed by Vibe's hip-hop and break-dancing guru, Brothablack.
"When it came to participation, Lala was open to all ideas. She takes the things she is taught and executes them perfectly – she's a great listener," says Brothablak.
As well as her work experience at Vibe, Lala plans to add to her skills by taking a summer-school course in IT and design at Lidcombe TAFE.
"No one really influenced me about doing design," Lala says. "I don't know anyone that has done it before. It's just something that I've always been interested in and it's what I want to do in the future."
With the skill that Lala has displayed in her time at Vibe's HQ, it would seem that the sky's the limit for this budding Indigenous designer. We'll be keeping a keen eye out for her work in the future. Best of luck, Lala! We loved having you here.
| | |
| --- | --- |
| What's your full name? | Lala Perina Maree Daniel |
| When were you born? | May 19, 1987 |
| Where are you from? | Mackay, Queensland |
| Where is home? | Leichhardt, Sydney |
| Do you have any brothers or sisters? | Two older sisters, one older brother, a twin brother and two younger brothers |
| What's your favourite part of Australia? | Broome |
| Do you have a nickname? | Lally |
| When did you first start doing serious art? | In Year Five |
| What's your favourite colour? | Blue |
| Do you have a lucky number? | 7 |
| What's your favourite song at the moment? | Dance Like It's Sunday by Trinity |
| What's your best asset? | My personality |
| Who's real deadly in your eyes? | Martin Luther King |
| If you could go anywhere in the world, where would you go? | Bora Bora |
| What's your personal motto? | If you believe, you can achieve |
| Where do you see yourself in 10 years' time? | Working in sport or design |