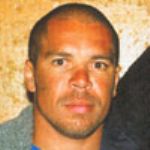 Deadly Vibe Issue 70 December 2002
Yamaji man Kenny Dann doesn't know the meaning of the word "˜quit'.
Three years ago, the 28 year old from Geraldton had to take time out from the sport he so loves. After sustaining a broken leg and nearly busting his back surfing, Kenny was forced to contemplate life off the board.
"It wasn't too good giving up something I love," says Kenny. "You miss it when you can't do it for a while. But I had my family there, so I spent time entertaining the kids and enjoying their company."
A father of three, Kenny had plenty to keep him busy. But that didn't stop him from clawing his way back to become the winner of this year's Wardandi Indigenous Surf Classic, held in October.
"Winning Wardandi was a great feeling, because the week before I'd won at Geraldton's major event, the Sunshine Festival, against all the top guys in the state," he says. "So that was two contests in two weeks. They were the first comps I'd been in for a couple of years, so I was pretty happy with that."
Kenny is no stranger to winning. He's represented Australia no less than five times and has won the Barbados World Cup, the Tahitian Cup, and in France was part of the winning team which took out the World Indigenous Title.
It all started with a bit of friendly sibling rivalry.
"I got into surfing through my older brother Mark. He's represented WA twice before and I wanted to do what he'd done."
Now Kenny has done just that and more. These days, however, this never-say-die surfer is keen to pass on his skills to, among other people, his three children.
"I have a six-year-old daughter, a five-year-old boy and my youngest girl, who turns two in January. They're pretty good on the surfboard already. My little boy's a natural " he can surf a wave to the beach from 20 metres out."
But it's not just his own kids that Ken wants to inspire.
"My major goal now is to start up my own surf academy based out of Geraldton, teaching younger kids and anyone who wants to learn. Giving people who've never tried surfing a go is great, especially when they get up on their feet!"
Not that he's about to give up on his favourite pastime, or the peaceful solitude it affords him.
"The best thing about surfing is being out on the ocean by yourself and simply enjoying the environment."
(Story 1/12/2002 end)