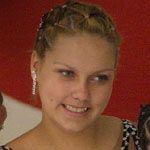 Deadly Vibe Issue 88 June 2004
Kate Romer is a member of Sydney Ice Impressions, a senior NSW synchronised ice-skating team.
Established in 1997, the team has gone on to represent Australia in Italy, France, Switzerland and the Czech Republic. They've also won the national championships seven times
So what is synchronised ice-skating anyway? Teams of up to 20 skaters create and maintain figures, movements and designs on the ice, all in unison and all in time to the music.
As difficult as it sounds, 19-year-old Kate admits that she enjoys it more than solo figure-skating.
"I love being part of a team – it feels so much more productive," she says.
Kate has been skating since she was nine years old.
"My grandmother took me to an ice rink one day," remembers Kate. "She's 68 now, and she's been skating for years.
"I showed some potential, so she enrolled me in skate school where we learned figure-skating."
After two years of skating solo, Kate moved on to synchronised skating. When she turned 16, she joined Sydney Ice Impressions.
"We train about five times a week," she says. "At the moment, we're training for an exhibition, and then there are the nationals in August. We didn't win last year, but I think we've definitely got a chance of winning this year."
Performing in other countries has given the team a chance to learn from more established skaters.
"We've brought back a lot from our experiences overseas," Kate says. "Things like new moves, things that give us more of an edge. This kind of knowledge hasn't just helped us as a team; it's also really helped the sport grow in Australia."
A few years ago, there was only one senior team in NSW, and four national teams. Now there are two NSW teams, and seven national teams taking part in competitions around the country and the world.
"We're a really strong team now," says Kate. "I've skated with a lot of the team since I was 11, so it's a really core group."
When Kate isn't training she goes to university, where she is studying primary school teaching. She also recently started working at the ice rink where she trains.
"I'm going to be spending pretty much all of my time there now," Kate laughs.
(Story 1/6/2004 end)