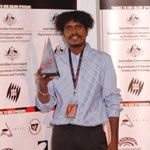 Keeping it Real
Deadly Vibe Issue 116 October 2006
A shy young man charms us all as he takes out the Deadly for Actor of the Year.
Jamie Gulpilil is perhaps the most unaffected actor ever to grace our screens. This humble young man with the famous father almost seemed to be wondering what all the fuss was about as he silently watched hubbub surrounding him on Deadlys night.
Despite being one of the biggest stars present at the Deadlys, you had the feeling that Jamie would have probably preferred to be somewhere else entirely, as he stood uncomfortably on stage with his fellow Ten Canoes cast and crew members to present the award for Outstanding Achievement in Entertainment, then again as he took to the stage alone to accept his award as Actor of the Year. His brief, shyly spoken acceptance speech in language was almost inaudible " something that failed to faze an adoring audience, who greeted him with an ecstatic round of applause.
Twenty-two-year-old Jamie was born and continues to live in Ramingining in north-eastern Arnhem Land. Despite his lack of experience, Jamie is a natural in front of the camera, just like his dad. Also like his father, he has had to get used to the trappings of fame fairly quickly, after the runaway success of Ten Canoes saw his face plastered across posters and movie screens across the country and the world.
But success does not seem to have turned his head, nor does the experience seem to have changed this reserved young man at all. Although he was delighted by his win, when asked by a Sydney Morning Herald reporter how he would celebrate winning his award, he timidly told them he would probably just like to go hunting and fishing back home. So much for over the top movie star demands " this young man is as real as you can get.