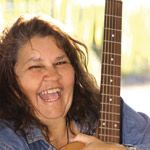 Deadly Vibe Issue 107 January 2005
She's the One
A long-held dream becomes a reality for one singing sista.
June Mills has been surrounded by singing and music all of her life. Her parents David and Kathy are both accomplished singer/songwriters, and June and her sisters Alyson and Barbara (The Mills Sisters) have received widespread acclaim for their performances at national events for many years.
A traditional owner of Larrakia land, June has devoted her life to her people, and has long fought for social justice, human rights and the environment. This dedication to her community and to her family has meant that her dream of recording a solo album has never quite come to fruition.
Until now. June has recently released her debut album, I'll Be the One.
"I had given up on ever being able to release and record my songs," June says. "There were times before when I got my hopes up, only to be let down.
"The last time this happened, I decided that I would just give up singing. I didn't realise that I was hanging on to the past and letting it hold me back. Then Skinnyfish Music approached me about doing an album. I ignored them for a while, but in the end they convinced me.
"I've stopped focusing on the past now. It's a new day!"
June is immensely proud of her music, and admits to being "blown away" by the recording process and the final product.
"I really love every song on the album," she says. "The musicianship is amazing, and I love how I sound, particularly on I'll Bring You Home and Jessie.
"Jessie really stands out for me. It's got such a beautiful, rhythmical sound. I listen to it all the time " like when I'm in the car, I'll just be flogging it at top volume!"
June's album is truly heartfelt. The joy that she experienced in making it shines through, and the pride she feels in her accomplishment is tangible.
"This is truly a heartfelt album," she says. "I am proud that it presents my songs and music in an honest, straightforward fashion. I wanted it to be real and to reflect what I am on about
"Now I just want to get out there and perform, promote and share it."
The CD cover for I'll Be the One is based on traditional Larrakia designs and is taken from June's own artwork called Gorawa. This artwork has become an instantly recognisable symbol of June and her music.
I'll Be the One is available online at www.skinnyfishmusic.com.au