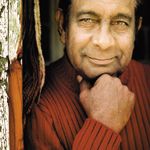 Deadly Vibe Issue 89 July 2004
Life's what he makes it
Singing legend Jimmy Little has been on the most incredible journey this year.
In February, after performing a show with James Blundell in Denmark on the southern coast of Western Australia, Jimmy got the phone call he'd waited two years for.
There was a kidney available for him back in Sydney, on the other side of the country.
What followed was an incredible feat of co-ordination – a Royal Flying Doctors plane was diverted to Albany, one hour's drive away, to pick up Jimmy to take him to Perth, where he could catch a 6am flight back to Sydney.
Jimmy is now recuperating from his transplant, with his daily check-ups recently dropping back to three times a week. "I'm coming along fine but I still feel a little bit odd," Jimmy said from his Sydney home.
He said his feet feel cold and semi-numb (a side-effect of kidney disease that doctors say should eventually disappear), he is short of breath and there are some notes that are an effort to sing.
However, Jimmy is confident that he will be ready to showcase material from his latest album, Life's What You Make It, in coming months.
The reaction to the album, which covers songs such as the Red Hot Chili Peppers' Under the Bridge, and U2's One, has been "very encouraging", says Jimmy.
"Some people say it is better than Messenger," the 67-year-old says. "That's one of the more extreme compliments."
Jimmy also got compliments galore in May, when he went online immediately after the screening of Jimmy Little's Gentle Journey. The documentary covered his life and career, which has seen Jimmy sing everything from pop, gospel, country – and now rock covers.
Hundreds and hundreds of people posted messages in the chatroom, wishing Jimmy a speedy recovery and often reminding him that they had met somewhere – at a community hall, in a studio, at a mutual friend's house – during the singer's five-decades-long music career.
In the meantime, Jimmy is proudly encouraging his grandson James Henry, who is following in his musical footsteps by releasing his own CD, called Calm Crazy.
"He's my hero," Jimmy says of 24-year-old James. The two men live in the same house and are incredibly close. "Think about it for a moment – here I am at the peak of my career and at this stage of my life, and here I am witnessing and sharing in the beginning of my grandson's career. I'm here to welcome him in."
(Story 1/7/2004 end)
Deadly Vibe Issue 83 January 2004
As an icon of Australian music for more than five decades, Jimmy Little has given to the Indigenous community over and over again.
He not only inspires others through being one deadly singer but also through his enviable qualities as a man of great dignity, compassion and understanding.
Jimmy's remarkable lifetime achievements and his special place within the Indigenous community were recently celebrated when he was presented with the Red Ochre Award in Sydney.
Awards are one thing Jimmy should be used to by now. He has been named Aboriginal Person of the Year and has won many Deadly awards for his contribution to Indigenous music. However, Jimmy was just as proud and gracious about his Red Ochre award as any other.
"I've got to put this one at the top of the list of Indigenous awards because it signifies Indigenous pride and individual achievement," says Jimmy.
"It's almost like a final confirmation of the path which I took in the beginning of my career, which was to achieve personal satisfaction and independence, and to be an example not only to Indigenous Australians but to people in general."
The Red Ochre award was established by the Australia Council in 1993 to honour artists who have made outstanding contributions to Aboriginal and Torres Strait Islander art and culture. And Jimmy's contributions to his people, art and culture made him a natural choice for the award. Past winners include actors Bob Maza and Justine Saunders, playwright Eva Johnson and photographer Mervyn Bishop.
"We all begin life with the ability to do a number of things but we have to then find the courage and determination to keep fuelling the fire of desire, to keep going forward slowly, with a positive attitude," says Jimmy.
The prestigious $50,000 Red Ochre award was presented to Jimmy by Dr Richard Walley, chairman of the Australia Council's Aboriginal and Torres Strait Islander Arts Board.
"Jimmy is nature's gentleman," says Richard. "To present the award to a musical legend and a personal role model " and to be part of this celebration with Jimmy's family and friends – is an honour."
Also there to congratulate Jimmy was the Minister for the Arts, Senator Rod Kemp.
"The Indigenous music scene came to life with Jimmy Little's first recording in 1956 at age 19, and since then he has marked each decade with his distinct and particular style and personality," the Minister says.
One of Jimmy's main sources of motivation throughout his career has come from his family and close friends, who were there to share in his winning of the Red Ochre award.
"There has always been this inner glow spurring me on and that came from my family," Jimmy says. "I found that family was my cushion, like my buffer, my foundation and it was also my launching pad.
"I'm just a proud Australian and everywhere I go I feel I'm home. I'm a product of this great nation as well as my little humble home and family and friends."
Jimmy's family embrace his accolades with great pride.
"They are all glowing," says Jimmy of his family's reaction to the Red Ochre honour.
"My immediate family, my wife Margerie Rose, my two children and all my relations are getting the word now, so there is a wonderful chain reaction going out around the family. All these lovely things are going out and they will come back to me at home base and I will just keep on celebrating now for 12 months."
As well as the satisfaction this award brings to Jimmy and his family, he hopes such accolades can have a greater positive effect on the wider Aboriginal community, or what he refers to as his extended family.
"In the beginning of my career I wanted to be a success story and I wanted people to react to that success and respond to it, and it has remained that way right up to now," says Jimmy.
"I'm hoping that people of all ages and all walks of life who witness my achievements and my awards such as this one will say to themselves I've got something to offer in life and be rewarded too, so it's about just motivating and inspiring others to reach out and look for their goals in life."
(Story 1/1/2004 end)
There are 11 good reasons to Resonate this month, and they're all on Jimmy Little's sublime new album.
Our favourite Yorta Yorta man is back. Following on from the success of his ARIA award-winning 'comeback' album, Messenger, the gentle giant of Aboriginal music has set the mood for love with another long-player. And once you've heard Resonate, we're confident you'll be playing it and playing it all summer long.
As with his previous album, Jimmy collaborated with some of Australia's most talented musicians, songwriters and producers in putting the disc together. But unlike Messenger, Resonate features virtually all new material, with songs penned specifically for that velvet, vibratory voice by the likes of Paul Kelly, Stephen Cummings, Dave Graney, Bernard Fanning, Dave Mason, novelist Luke Davies and Jimmy's own daughter, Frances.
Jimmy describes his new album as "tranquil, easy listening mood music". We couldn't put it better ourselves. But don't be mistaken into thinking that's "easy listening" as in Air Supply or Percy Faith. It might be tranquil, but still waters run deep and Jimmy's astute treatment of songs that meditate on love, faith, love, hope and yet more love are subtle and soulful. It's not so much easy listening as easily sung, effortlessly performed.
Then again, what would you expect from someone who's been a professional musician for 48 years?
"In any field it is always hard work to try and make something feel, look and sound easy," concedes Jimmy. "Having said that, recording this album was fun to do – I enjoyed singing every track. And I'm anticipating being able to reach out to the people again."
It's important for Jimmy to be able to reach out – to young people, baby boomers and the violet bloomers who've been following his career over many years. He draws strength and inspiration from seeing people respond to his music. Jimmy's art could never work in a vacuum; for him it is a shared experience.
Just as Messenger benefited from Karma County's Brendan Gallagher at the controls, Jimmy's new recording sees producer Daniel Denholm arranging the material to suit his inimitable style, along with additional help from Richard (Boom Crash Opera) Pleasance and Brendan. And there's even a duet with the chameleonic Kylie Minogue – a cover of The Triffids' "Bury Me Deep In Love" which has a tender, emotional pull all its own.
While the press release assures us that Jimmy is taking this popular resurgence in his stride, one can't help wondering if he isn't a little surprised to have been crowned "the coolest artist in Australian music" at a stage in his life when most people would be thinking about nest eggs and golf.
"It is most definitely a surprise," he says, eyes twinkling. "But I planned my career from the start in such a way that it would be steady and that I would never bite off more than I could chew. I've always liked to sample and explore different storylines and songs, and if you work with people who have your interests at heart, then you'll usually come up with something that pleases the majority."
Jimmy's evocations of love are timeless, transcending the vagaries of musical fashion. A man of deep Christian faith, he sings love songs as though they were spirituals, and vice versa. One of the most beautiful tracks on Resonate is the first one, "Surely God is a Lover". Written by Paul Kelly with lyrics by the poet John Shaw Neilson (1872 – 1942), it's a hybrid ballad that speaks of God's love for us as an almost-human desire.
"I wanted to sing that song as a way of saying that God has a sense of humour and a heart of gold. He's human, he's real and he has suffered more than any of us put together. There is so much power in compassion, and I think that is sometimes overlooked."
For Jimmy, music is "the language of love" because it has the potential to transcend everything that distinguishes humans one from another. Which makes him something of a lover himself. While other artists might be precious about their oh-so-valuable time, Jimmy is thankful for the opportunity to share some of his knowledge and experience with those who might benefit from it.
A dedicated Ambassador on behalf of the Commonwealth Department of Education, Training and Youth Affairs' National Indigenous English Literacy and Numeracy Strategy, Jimmy can often be seen in such far-flung locales as Bloomfield River, Queensland and Beagle Bay, Western Australia, talking to young people about the lessons he's learned in life and why education is so valuable.
"I've had so much good fortune and blessings in my life, I just want to put some of it back," he says. "If I can inspire the children to make positive decisions about their lives, then my own success is not lost. I tell them to be true to themselves and to believe in themselves. If they can do that, then there are others out there who will believe in them too.'"
(end)
Uncle Jimmy Little is an Australian legend. At 63 years of age, and with a career that spans over four decades, he is a gentle giant of Australian music.
Jimmy arrived in Sydney in 1955 as a teenager, and quickly caused a sensation when he appeared on the country music showboat, the Kalang. Signing to EMI, he cut his first Regal Zonophone 78, "Mysteries Of Life" in 1956 and went on to cut seven more before leaving the label.
In 1959, after making his acting debut in Billy Graham's evangelical feature film Shadow Of The Boomerang, Jimmy joined Festival Records.
With "Royal Telephone" going Top 5, Jimmy was named Australia's Pop Star of the Year in 1964.
Jimmy has never forgotten his roots, and it was with a gentle country-cum-rock 'n' roll sound that he continued to fill clubs well into the '80s. Towards the end of this decade, however, he pulled back from his performing commitments in order to devote more time to his family and community.
Jimmy qualified as a teacher in 1988 and taught Aboriginal culture and philosophy to students at the Aboriginal TAFE in Redfern for five years.
In 1989, he made his triumphant theatre debut in Black Cockatoos, which was followed by his winning the NAIDOC award for Aboriginal of the Year.
Jimmy has performed in the opera Black River, and can be seen in Tracey Moffatt's short film Night Cries, starring Marcia Langton, and Wim Wenders' feature film Until The End Of The World.
In 1992 and 1993, Jimmy performed as part of the Tamworth on Parade and Kings of Country roadshows, and in 1995 he released his album Yorta Yorta Man independently.
Jimmy was awarded the prestigious MO Award " John Campbell Fellowship in 1997, in recognition of his outstanding contribution to both the entertainment industry and the wider community.
In 1996, Karma County's Brendan Gallagher met and was "completely overawed" by Jimmy, and became determined to work with him. That collaboration bore wonderful fruit in the shape of Jimmy's 28th album, Messenger, in 1999.
Messenger brings together songs by Neil Finn, The Go-Betweens, Nick Cave, Paul Kelly and Steve Kilbey, all interpreted in Jimmy's unforgettable style. Collaborators on the album include Crowded House's Paul Hester, members of The Whitlams and the Tiddas.
For this critically acclaimed album, Jimmy received two ARIAs, two Deadlys, and was inducted into the ARIA Hall of Fame.