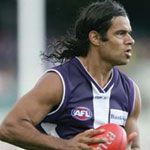 Deadly Vibe Issue 112 June 2006
Farmer's 400
Jeff Farmer adds another special milestone to his long list of achievements.
During his 10 seasons in the AFL, Jeff Farmer has proven himself to be one of the most instinctive and exciting goal kickers around. After breaking the 200 game barrier earlier this season, he has now notched up another very special accomplishment – becoming the first Aboriginal player to score 400 goals.
The Fremantle Dockers got off to a strong start this season, and in a team that boasts a high numbers of Indigenous players, Jeff is at the very forefront. His creativity, unpredictability and goal-scoring ability have often played a key role in his team's success, helping make that all-important difference between victory and defeat.
Last month 28-year-old Jeff hit a major career highlight in a match against his old club, the Melbourne Demons, when he booted his 400th career goal – the first ever Indigenous player to do so.
There was plenty of talk in the lead-up to the match about the possibility of Jeff reaching number 400, and Dockers fans didn't have to wait long for him to get there.
In the opening minute of Jeff's 205th AFL match, he slotted home a quick hand-to-foot goal under pressure, his 14th of the season so far and the 400th of his career.
The goal placed Jeff into an elite class. Only 69 players in the history of the AFL have joined the 400 Club, with Jeff becoming the 70th at the home of his former club, the MCG.
The fact that Jeff has reached this achievement at small forward, probably the toughest position in football, makes it all the more impressive, certifying his position as one of the game's modern greats.
Despite the fact Jeff's 400th goal wasn't enough to lead the Dockers to victory on the day, it will certainly go down as a memorable moment in his career. It's also a record that will not be topped by another Indigenous player for some time.
(story 1/6/2006 end)
There is no more exciting player in AFL than Jeff 'The Wizard' Farmer.
1999 was a disappointing year for the competition's premier (small) forward, but he scaled great heights in 2000, booting 76 goals from 23 games in all sorts of difficult angles and situations.
Against Collingwood in round 14, the star forward was benched in the first half but came back after halftime to boot nine match-winning goals. While there has been some criticism that Jeff tends to run hot and cold from time to time, his eight goals against the Kangaroos in the preliminary final only served to highlight his immense talent.
Jeff was the leading goal kicker in 1997 (equal), 1998 and 2000 and has already announced his intention to back up his remarkable 76-goal return in 2000 with an even better stint this season.
Although Jeff made his name in the forward pocket, this season he has decided to change position. Still wanting to keep that 'Wizard' tag, he has moved away from the goal square to assume a midfield role. Sure enough, he stole the show in first outing of the season as the Demons stormed to victory.
Being in midfield means more freedom than the close checking he has been subject to, week in week out, in the goal square. Last year's leading goal scorer Jeff, hopes to eventually become a full-time midfielder. However he expects he will still be required to contribute heavily to the scoreboard. In a nutshell, Jeff Farmer will have to be flexible.

Name:
Jeff Farmer

Team:
Melbourne Demons

Guernsey number:
33

Date of birth:
24/06/77

Height:
175cm

Weight:
78kg