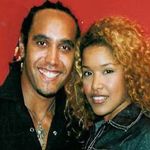 Troy Brady and Trevelyn Lakay are two young Brisbane-based musicians with love in their hearts and Motown on their lips. Together they make up the soul/funk duo Java.
Rising out of the ashes of boy band AIM 4 MORE and girl group Kamballa, Java have been honing their style for three years and are now ready to take their message of positivity and pride to the next level.
Like the blend of coffee from which they take their name, Java's music is strong, sweet and very popular. Whether playing at last year's 8th National Aboriginal & Torres Strait Islander Sports Awards or this year's Survival, Troy, Trevelyn and the Java Dancers (Troy's kid siblings Bobby Jo and Darren) ignite the stage with a passionate and engaging set that's won them fans all up and down the eastern seaboard.
Troy has been singing since he joined AIM 4 MORE fresh out of high school ("˜AIM' stands for Aboriginal & Islander mob). The swooning, crooning threesome garnered good press right around Australia for their smooth voices, tight moves and handsome looks, releasing their self-titled debut album in 1997.
Meanwhile Trevelyn, who moved to Australia from Zimbabwe with her family 15 years ago, went from singing in local outfits Era and Kamballa to landing a role in Queensland Musical Theatre's production of Showboat last year.
Now the pair are working to release a five-track EP by midyear, something they've been working towards for quite some time.
"Writing and performing original material has always been Java's goal," says Troy. "The last few years have been like an apprenticeship. I believe in fate " I believe this was meant to happen. We've got some great material, ranging from R&B and soul to ballads. I've also written a song about my people, looking at where we come from and where stand now."
With influences ranging from Marvin Gaye and the Temptations to Maxwell, D'Angelo and Babyface, Troy's clearly a lover rather than a fighter " except when it comes to fighting for the hearts and minds of Aboriginal young people disaffected with life. A proud blackfulla with Kuku-yalanji and Woorabinda heritage, he carries out valuable support and referral work in prisons and is involved in a number of preventive programs for those caught in the cycle of drug abuse and self-harm.
"We organise cultural activities for them, day excursions and camps just to get them away from that stuff," he says. "These are kids that are into chroming and hard drugs. They don't attend school, they're not in contact with mainstream organisations and they won't listen to the Elders or to their parents. They're completely isolated."
Troy and Trevelyn both agree that what these young people need more of are Indigenous role models. That way, they'll understand it's possible to be Aboriginal or Torres Strait Islander and to achieve in any field they so desire.
"Many of the sportspeople whom we met at the Sports Awards are just regular everyday people, which is why they're such positive mentors for kids," says Trevelyn. "We like to present ourselves as role models, too, chatting to kids and encouraging them to finish their education and respect their culture."