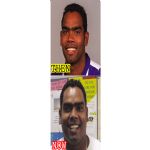 Deadly Vibe Issue 103 September 2005
Tragedy in Northern Territory
Legendary AFL player and respected Indigenous leader of the Marngarr Community in Arnhem Land, Gary Dhurrkay was tragically killed in a car accident on Sunday, August 21.
The former Fremantle and Kangaroos forward was not only respected by his teammates and his community for his skill on the field and his dedication to his people. He was also beloved by all for his gentle nature.
After playing 51 games for the Dockers and 21 for the Kangaroos, Gary retired from professional football in June 2000 to dedicate himself to his cultural beliefs.
Gary was only 31 years old and was the father of two young children. Deadly Vibe wishes to extend our heartfelt sympathy to Gary's family and community.
(Story 1/9/2005 end)
Deadly Vibe Issue 97 March 2005
The Heart of the Matter
After realising his dream of reaching the elite level of the AFL, Garry Dhurrkay realised something else, that there's no place like home.
After spending five seasons with the Fremantle Dockers, Garry Dhurrkay moved t o the Kangaroos, and went on to become one of their most exciting players. Then, in 2000, after two seasons at North Melbourne he surprised everyone by announcing his retirement from the game at the ripe old age of 26.
"I retired for personal reasons," says Garry. "I was missing my family and missing my country.
"A lot of people at the time said t o me that I was too young to retire. I was 26 and probably could have played for another four or five years, but when I look back I don't regret it, because I'm back home now, surrounded by all my family."
Home for Garry is Nhulunbuy country in North Eastern Arnhem Land.
"I'm a Yolngu man, and very proactive with my people," he says.
"I was the first man from my country to make it into the AFL, which is an achievement in itself, but after my retirement I didn't want to come back home and just sit back."
Far from taking a back seat after retirement, Garry has become the chairman of a new association called Yiwarr, which has been establishe d t o address issues that are of importance to the Yolngu people.
"We are establishing a facility that will become a rallying point to improve health and socioeconomic plights," he explains. "Most importantly, we want to create different avenues of opportunity for our young people.
"We have a long term visions and are working in 15 year blocks, so I'm really excited about the future. Working for my people and my community is what I want to be doing now and in the future."
Now 30, Garry still maintains an involvement with AFL, coaching the Gopu football club, and he still has plenty of memories from his playing days.
"I think the thing I miss the most about playing is just running out onto a ground and hearing that huge cheer from the crowd," he admits.
While he received plenty of cheers for his on-field exploits, the move that Garry Dhurrkay will be best remembered for is his decision to step away from the limelight and devote himself to the advancement of his community. We couldn't think of a better cause.
(story 1/3/2005 end)