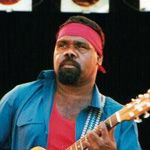 Frank is one of Australia's most talented contemporary performers. He also happens to be a traditional Pitjantjatjara Aboriginal who is fluent in five Aboriginal languages.
Frank has been recorded on 16 different commercially released albums, including Red Sands Dreaming , In Aboriginal (released in the US), Songlines (ABC Records), Celebration, and Terrasphere .
In 1988, Frank travelled to Darwin for the inaugural Sing Loud Play Strong Aboriginal Music Festival. It was the first time he'd ever performed his own music and the set was recorded on video and sold all around the world by CAAMA.
Frank also performed at that year's Port Fairy Folk Festival
Next, Frank went to play with the Ulpanyali band in 1989, and recorded an album with them on the CAAMA label.
In 1990 Frank toured the Northern Territory with The Secret Admirers, a band put together by Bill Davis to perform songs from his award-winning radio serial and album, Bushfire. The band travelled over 10,000km in one month, performing in 28 different towns.
The band travelled to the top end in 1992 to perform at the Barunga Festival, as well as a number of pubs in Darwin.
In 1995 Frank spent time with Barry Ferrier at the Music Farm in Byron Bay, working on a Warner Bros soundtrack. He also recorded tracks with Bart Willoughby and Warren Williams at CAAMA.
Frank recorded his own song "Everybody's Talking" for ABC-TV's Songlines program and accompanying CD. He also joined Bart Willoughby and Tiddas in another recording for the same program.
1999 was a big year for Frank. At the Deadly Awards in Sydney, he won Album of the Year for Playing With Fire. Frank was accompanied on the album by Piranpa, a band consisting of Zeus B Held on keyboards, Jim Hilburn on bass, Nic Guggisberg on drums and Simon MacDonald on percussion.
After that Frank went to Melbourne for a one-off show called Warako Musica, where he performed alongside Deadheart, Dark Seed, Shelly Atkins, Michael Torres and DJ Systa BB.
Frank and his band also performed at Corroboree 2000 in Sydney.
Deadly Vibe Issue 55 September 2001

FRANK LOVES ALICE
One of the brightest stars to emerge from the red centre is 'Deadly' award-winning musician Frank Yamma. And come Saturday 8 September, he'll be headlining in his hometown as part of the Yeperenye Federation Festival's all-star concert, The Road Ahead.
888
Go to a Frank Yamma concert and you'll more than likely be sung to in up to six languages. Now how many musicians are there around who can do that!
Frank, a traditional Pitjantjatjara man from Australia's central desert, is a talented and enigmatic performer who has come a long way since the days of singing in his dad's country band.
In fact he's just returned from a solo tour of the US, where he had dates in San Francisco, Virginia, Washington, New York and Santa Fe.
But Frank was just a little bit homesick.
"I was looking forward to getting over there and doing my shows so that I could come back to the heart of Australia," he says.
Truth be told, he had more than homesickness to draw him back. His next big gig is at Yeperenye Federation Festival's mammoth The Road Ahead concert on Saturday night, 8 September.
Frank is one of the headline acts in a concert set to be the biggest line up of Indigenous musicians ever assembled on one stage. Around 20,000 people will attend the two-day Festival in Alice Springs' Blatherskite Park, highlights of which will be broadcast on ABC TV on Sunday, 9 September at 8.30pm.
"I can't wait to get to Yeperenye and do a show there, because it's for all the Aboriginal and Islander people, and Alice Springs itself," says Frank. "Yeperenye will be very good for our children because they'll remember it for years to come."
Alice Springs is hyped about Yeperenye, as this sort of event doesn't happen every day in central Australia.
"Actually I'd like it to happen every year, just to keep the people together!" he says. "Hopefully some of the kids are thinking, 'Hey, if you can do that, I can do it too'. Yeperenye will be an inspiration for our children's future."
Yepfest will also be one of the biggest corroborees ever held, thanks to a heap of preparation. The organising committee is headed up by artistic directors Rachel Kemarre Perkins, best known for her AFI award-winning film Radiance, and Nigel Jamieson, who directed the Indigenous component of the Sydney 2000 Olympic Games opening ceremony. Along with cultural directors Rosalie Kngwarraye Riley and Michael Liddle, and executive producer Clive Scollay, the Yepfest team are working 24:7 to ensure the weekend is a magical success.
"We have 25 people on our team and dozens and dozens of fantastic performers. It's going to be huge for Alice," says Rachel.
Frank has been recorded on 17 different commercially released albums, including Red Sands Dreaming, In Aboriginal (US release), ABC TV's Songlines, Celebration, Terrasphere, and the just-released Corroboration.
Featuring musical collaborations between Indigenous and non-Indigenous musicians, Corroboration sees Kylie Minogue crooning with Jimmy Little, Deborah Cheetham soaring sublimely with Wicked Beat Sound System, and The Cruel Sea hip-hopping it up with Native Ryme Syndicate.
Frank re-recorded one of his best loved numbers, "Coolibah", with friend David Bridie.
"It's an old track that we slowed down," he says. "It's about alcohol and drinking problems in the community and when I shared it with David and told him the meanings of the words, it really touched him."
Frank believes music is a representation of one's soul and culture. His latest album, Playing with Fire, has done well in the charts with its explosive mix of beats, rhythms and plaintive tunes, sung in both language and English.
"Speaking five Aboriginal languages allows me to really mix the songs up," he laughs. "It's great having fun with them when I'm writing."
Frank's percussionist on the album was Alice Springs-based artist Simon MacDonald. The two met at the Saltwater Festival in Darwin and clicked instantly. Initially Simon asked Frank to help him out with his album. When that was done, Frank asked Simon the same thing!

"Frank asked me to play on his album because we had such a good time doing my album before that," he says with a smile.
Because all the musicians who played on his album were whitefellas, Frank christened the band Piranpa, a Pitjantjatjara word that means 'skinny white lizards'!
"He's a very good musician," says Simon. "I love touring with him as much as I love playing with him. It's always a buzz and we usually have all sorts of adventures on the way."
One of the reasons Frank is so successful in his music is because he experiments with a wide range of styles and sounds.
"Frank has an openness where he allows other musicians to contribute to his songs," says Simon. "He is magical and his song writing skills are great. He can play soft and beautiful pieces, then his band kicks in and he plays rock 'n' roll. His emotional range is outstanding."
Those of you who have been privileged enough to witness Frank perform live would certainly know about his ability to make the crowd go crazy. He exudes a natural talent that gives him the kind of assured on-stage presence other musicians can only dream about.
"He's dynamic and very strong on stage," says Simon, "and he can be unpredictable at times!"
So for all those Frank Yamma fans, don't miss his Yeperenye gig. He'll be sure to rock the red centre to its core.

His message for Deadly Vibe readers? "See you in Alice when I'm lookin' at you!"
(Story 1/9/2001 end)