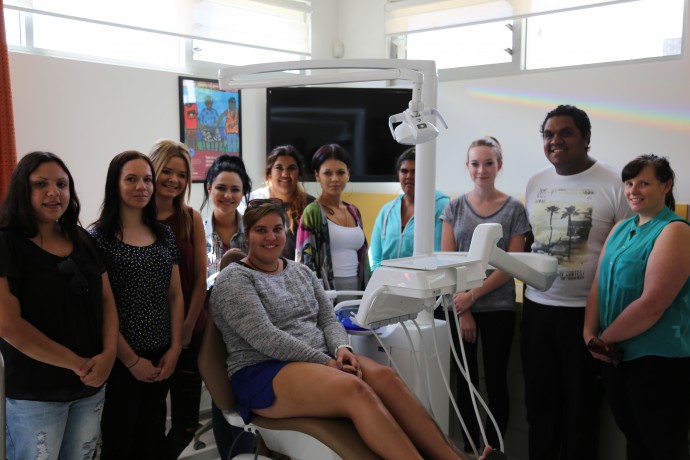 Oral health outcomes for Aboriginal and Torres Strait Islanders and non-Indigenous Australians are not so much a gap as they are a chasm.
Aboriginal and Torres Strait Islanders are much more likely to suffer from oral diseases and, as a result, face complications and ill health. This is why we need more Indigenous dental workers to ensure that an approach that is comprehensive, as well as culturally appropriate, is taken and the chasm bridged.
One course in particular that is aiming to bridge the divide by training Aboriginal and Torres Strait Islander students in the field of dentistry is the iSmile Dental Assisting training program in Orange through TAFE Western's Winhanganha Aboriginal Learning Centre.
Twelve students, hailing from all over Western NSW, are undertaking the program that will equip them with their Certificate III in Dentistry Assistance and provide pathways to more advanced learning and careers as TAFE Western's Winhanganha Head Teacher, Lisa Byrne explains.
"It will give them the ability to get employment in the dental area as a dental assistant after completing their Cert III, then it will open up the pathway to go onto their Cert IV and then hopefully onto University to complete oral hygiene – if that's what they're interested in – or become a dentist," she says.
With a dismal amount of Aboriginal and Torres Strait Islander people working within the industry, this course hopes to get a conversation started and ultimately get more Indigenous Australians into the field to work on bettering oral health outcomes of Indigenous people.
"Dentistry is an expanding health area and hopefully this program will address the current dental assisting training to help close that gap in relation to those health issues," she says.
The course employs state-of-the-art equipment and teaching staff and the students are enjoying undertaking the course.
"They work long days with the teachers here in dental and they are actually really enjoying the course. They really enjoy the practical side of it and they're finding it very interesting," says Lisa.
The Winhanganha Aboriginal Learning Centre is a $3.4 million project with the purpose of equipping Aboriginal and Torres Strait Islander students of whatever age with the knowledge and skills to diligently enter the workforce. iSmile is currently the only program running but, as of semester 2, they hope to have Certificate III in Fitness and a Certificate in Modelling.
"The modelling certificate is based on encouraging young Aboriginal woman to build self-esteem, confidence and being able to go out into the work places with that confidence and go for job interviews. If they're interested in modelling as well they can go down that path," explains Lisa.
Anyone people interested in the iSmile Training Program should call 1300 823 393 or send an email to [email protected]. For more information on the Winhanganha Aboriginal Learning Centre contact TAFE Western.