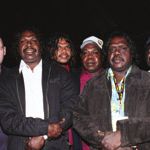 Deadly Vibe Issue 104, October 2005
Xpress Delivery
They came all the way from the Kimberley – and took home a Deadly
In 1982, a group of school kids were fortunate enough to gain access to some band equipment purchased by the Fitzroy Crossing High School and put together a set of six songs to perform at a local disco. Two of those kids, Danny Marr (front man and lead guitarist) and Allan McLarty, (rhythm and lead guitar), still hold their place in the Fitzroy Xpress line up as it is today.
Despite the physical restraints of both geographical isolation and extreme heat interspersed with a wet season, Fitzroy Xpress have not only survived but thrived in the music industry. Their energetic live shows and unfailing belief in their music has enabled them to spread their sound further afield than they ever imagined possible. This success was never more evident than at the Deadlys this year, as the band took out Album Release of the Year, an award they were nominated for alongside Casey Donovan, Emma Donovan and the Stiff Gins.
"It certainly made the trip worth while," Danny joked after the awards.
The band's new album Home Sweet Home is an infectious mix of country and rock/pop and has been generating plenty of airplay across the country.
(story date October 1, 2005 end)
Fitzroy Express hail from Fitzroy Crossing and have played at Stompem Ground in 1992, 1996 and 1998.
At the Derby Country Music Festival in 1996 they were winners in the Professional Section, Band Section and Songwriting Section.
Fitzroy Express played the Fremantle Arts Festival in 1997 and the "˜Don't Dam The River' concert in Broome in 1999.
The band is accredited with APRA and consists of Daron Keogh (bass guitar/vocals); Danny Marr (lead guitar/lead vocals/rhythm guitar); Alan McLarty (singer/songwriter); Raymond Marr (singer/songwriter) and Victor Marr (singer/songwriter).
Deadly Vibe Issue 61 March 2002
With a new album and tour in the pipeline, things are looking impressive for Fitzroy X-press. Deadly Vibe waits in anticipation.

Thanks to a unique blend of country, rock 'n' roll and reggae, Fitzroy X-press are living legends throughout the Kimberley. Hailing from the Darlngunaya community just near Fitzroy Crossing, this much-loved musical outfit formed over 20 years ago while at school together.
It all started when Peter Ghouse, the local music teacher at the time, arranged six songs for the fullas to perform at the local Junjuwa Community Hall. Since that auspicious debut, the line-up has altered somewhat over the years, most notably with the sad loss of their drummer Andrew Forrest to leukaemia.
Current members Danny Marr, Alan McLarty, Raymond Marr, Victor Marr and Danny Keogh believe they can use music to encourage young people to maintain traditional culture while still embracing "the new ways". As they point out, it can be pretty difficult to live a fully traditional lifestyle now. But by striking the right balance, crucial laws can be maintained and language kept alive.
Following on from the success of Little Bit of Country, Little Bit of Rock 'n' Roll, Fitzroy X-press are currently recording their third album, for which they've decided to translate one of the tracks into Bunaba, the traditional language of the area. This has proven to be quite a challenge both for the band and the community, but all realise the importance of singing in language, just as Nabarlek and Lajamanu Teenage Band do.
The issue of language has come full circle in the community. Thirty years ago under the guidance of lead singer Danny Marr's father, one of the traditional owners of the area, the community decided to learn English. For many, this translated as a loss of language, or at least a corruption of it by creole. In the early 1990s, however, things swung back the other way, with more families wanting to find a balance between the old and the new, traditional and contemporary. Nowadays, traditional languages are taught alongside English and creole in schools throughout the Kimberley.
Fitzroy X-press' music is unique, and so is their song-writing process! Each band member picks their favourite thing – whether it be hunting or joking around with friends – and writes down some lyrics. Once the basic structure has been laid down, the band come together to finetune the words and come up with an arrangement. They have to get it pretty much right the first time around, too, as they tend not to rehearse!
"It's just too hard," explains new addition, bass player Danny Keogh. "The only place we can rehearse is the town hall and the local council just put the rates up so it would cost us almost $2,000. Not only that, but as soon as we start playing some of the local mob hear us and start banging on the doors thinking we're doing a gig and all of a sudden there's a party happening!"
Some of the band's biggest fans are kids from communities throughout the Kimberley. In fact it's not unusual to see punters as young as two singing along to classics like "Samantha", or the smash hit "Rodeo Road", which featured in the recent ABC TV documentary of the same name. Then again, they are musical legends in the area, having performed at every Stompem Ground since its inception and being regulars at the Derby Country Music Festival, where they won two awards in 1996.
While the band all love Fitzroy with a passion, they have mixed feelings about the relative isolation of the place. Derby is the closest town at 250km away, while Broome is a good 400km drive. It makes the logistics of touring a nightmare, especially when they have a policy of not catching small planes. Why? Well, just look at all the musicians who've come a cropper in small planes – Buddy Holly, Patsy Cline, John Denver and Aaliyah. (In fact, the late John Denver was supposed to appear at a concert protesting the proposed damming of Fitzroy River a few years ago, but died shortly after the concert was cancelled.)
Instead they drive, thus allowing them to access more communities and coordinate schedules around law time and wet season. Their last tour took in Cairns and the Northern Territory. "The response was incredible," recalls Danny, "but you've got to keep up the touring, and that costs a fortune. The next one we're planning is more Western Australia-based, taking in the Pilbara and Albany."
It's little wonder crowds are so receptive when you realise Danny is better known throughout Australia as "the black Jimmy Barnes". Even George Rrurrumbu from Warumpi Band was blown away the first time he saw them perform, remarking that he'd never seen anyone scream quite like Danny!
Apart from trying out new songs and gauging audience response, touring allows the band to pass on their musical skills to family members in much the same way that they first learned theirs. For instance, frontman Danny was originally taught drums until one of his uncles introduced him to the guitar. Now Danny's 16-year-old son Waylon is learning the beat. If he keeps it up, he may one day replace his drumming uncle and ensure that Fitzroy X-press keep going for another 20 years.
(Story 1/3/2002 end)