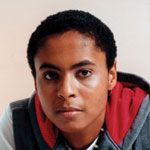 Deadly Vibe Issue 106, December 2005
Making the Connection
If you want something done, do it yourself, so the saying goes. One woman is doing just that.
We all know that Indigenous music is a growing force, but that it needs our support to help it on its way " going to gigs, buying albums, attending music festivals and spreading the word about any fresh young talent that's out there.
One young musician has decided that she wants to do a lot more than that, and is actively working to help new Indigenous artists make it in the tough world of the Australian music industry.
Ebony Williams, a 25-year-old hip hop artist, is the Indigenous Project Officer at the Australasian Performing Right Association (APRA) " a non-profit association that collects and distributes Australian and New Zealand copyright royalties for music creators and publishers from around the world. Her role is to liaise between the Indigenous community and APRA to help Aboriginal and Torres Strait Islander musicians make use of APRA's services.
"Basically my job is to give APRA the opportunity to work with Indigenous musicians," Ebony says.
Prior to her role at APRA, Ebony worked as the Indigenous Music Coordinator and Indigenous Project Officer with the Music Managers Forum (MMF) and the Association of Independent Record Labels (AIR). Her role here was also to promote awareness in the Indigenous community of the services provided by these organisations and to develop opportunities to raise the profiles of Aboriginal and Torres Strait Islander artists and managers in the music industry.
"The stumbling block that a lot of Indigenous musicians face is that they might have the talent, but they don't have access to resources that will help them showcase that talent," Ebony explains.
"My job is to provide information that will help these artists " to act as a link between them and the organisations that can help them."
Ebony also establishes relationships with music festivals such as Musicoz and Garma, which can provide opportunities for Indigenous artists.
"It's exciting to go to things like the Northern Territory Music Awards and Garma, and big music industry conferences," she says. "You can really see how there is a growing Indigenous presence in the industry. With performers like Ursula Yovich and Local Knowledge out there, you can see how Indigenous music really can start to take off."
Ebony is also working on getting her own music out there, and is currently working on a new album, which is due for release early next year. Although she is well known for fiery, politically-motivated hip hop about today's racial and social climate, Ebony says that her new material deals with a much broader range of issues.
"I've really been experimenting with different styles," she says. "Although there are some political messages in the album, there's also a whole lot more. Basically, it represents me and who I am."
(story date December 1, 2005 end)