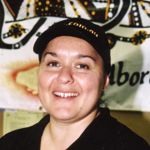 Deadly Vibe Issue 93 November 2004
One Deadly Doctor
Dr Ngiare Brown's was one of many surprised faces at the Deadlys this year after she was awarded a Deadly for Outstanding Achievement in Aboriginal and Torres Strait Islander Health.
"I am so honoured to receive this award," she says. "Especially when I am in such esteemed company as Dr Mark Wenitong, Julie Tongs and Mick Adams, who were also nominated for this award. I have had the privilege to work with them, and have seen the difference that they are making to our community's health and well-being."
Ngiare, who now works for Northern Territory General Practice Education, was one of Australia's first Indigenous medical graduates.
Although an increasing number of Aboriginal and Torres Strait Islander people are entering into medicine every year, Ngiare believes that there is a lot more that we can do as a community to boost the numbers of Indigenous doctors
"Each and every one of us needs to encourage our children to do whatever they choose in life," she says. "We have unlimited potential and exceptional talent in the Aboriginal and Torres Strait Islander community.
"If our children are given the support of their family and their community, they will be able to fulfil that potential and become doctors or nurses or physiotherapists or occupational therapists – whatever they want to be."
With people like Ngiare working in our communities to improve health and living conditions, it's certain that we're all headed for a healthier, happier future.
"The changes that we have seen in our communities have come from the grass roots level, not from policy down," she says. "If we can capture that enthusiasm that has led to these changes, we can help other communities make positive changes as well. We can make an impact on Aboriginal health that has not been seen for the past three or four decades."
(story 1/11/2004 end)